Actress Maria Conchita Alonso Calls Sean Penn A 'Communist A**Hole' After He Calls Her A Pig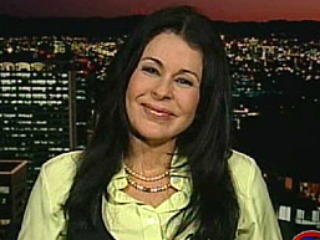 Cuban-born, Venezuelan-raised actress Maria Conchita Alonso has a history of taking fellow actor Sean Penn to task over his habit of voicing support for politicians often accused of limiting personal freedoms and controlling the media within their respective counties.
You may recall that, back in March of 2010, Alonso wrote an open letter to Penn after an interview he conducted praising Chavez. She attempted to share some facts with Penn regarding Chavez and his impact on Venezuela, a goal she's also worked towards through various appearances on cable news programs.
RELATED: Open Letter to Sean Penn: Actress Confronts Actor On Hugo Chavez
Now, Alonso is sharing what happened when she approached Penn for the first time since writing him that letter.
While waiting for her mother's luggage at an airport baggage carousel, she discovered that Penn was standing no more than ten feet away from her, also waiting for his bags. After some hesitation, she decided to approach Penn, civilly, and open up a discussion about Chavez.
She recalled that Penn was decidedly not open to speaking with her, and that he eventually began launching accusations against her brother, alleging that he is trying to aid in Chavez's assassination.
Things grew even more heated, with Alonso telling Penn that, if he supports Chavez, he must also be in favor of Ahmadinejad. Penn grew incensed and called Alonso a "pig," which prompted her to inform the actor that he is a "communist asshole."
She does say, for the record, that she regrets having stooped to that level.
Have a listen to Alonso as she tells radio station WMAL exactly what happened that day at the baggage carousel:
h/t NewsBusters
Have a tip we should know? tips@mediaite.com