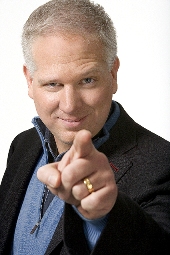 Even more advertisers, including Walmart, CVS and Best Buy, have pulled their ads from Glenn Beck's Fox News program, joining a group of more than 20 following a campaign by ColorofChange.org after Beck's 'Obama is racist' comments.
It was big news yesterday – given major play on HuffPost and discussed on MSNBC – and while it signals some success for the ColorofChange.org campaign, the fact that Beck's network, Fox News, isn't hurt at all continues to be ignored.
As a Fox News spokesperson told Mediaite yesterday, "The advertisers referenced have all moved their spots from Beck to other programs on the network so there has been no revenue lost."
That is a point that has been reiterated since advertisers first started exiting the individual show, and it proves the advertisers are more concerned with appeasing a section of their base than actually taking a stand.
Fox News continues to pick up the check from each of these companies, and continues to benefit from Beck and whatever he says on his program. Meanwhile, until Beck's commercial blocks are filled with ads for the Wall St. Journal, Fox Business Network and Fox Searchlight Pictures, which they aren't, his show isn't ultimately hurt either.
Meanwhile, the other side is mobilizing as well. On right-wing blog RedState.com, and in a campaign on SupportGlennBeck.com, Beck supporters are working on a campaign to get in touch with each of the companies who have moved their ads away from Beck's show.
But the Beck fans don't have to worry. If the advertisers really want to make an impact, they'd remove their advertising from Fox News in general. Of course, that won't happen – the audience is too big. Instead, the pseudo-boycott by these companies will continue, and Fox will let Beck talk about whatever he wants all the way to the bank.
—–
» Follow Steve Krakauer on Twitter
Have a tip we should know? tips@mediaite.com