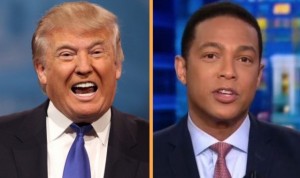 The Trump Train Twitter tirades are back, baby.
This morning, CNN's venerable late night stud Don Lemon finds himself firmly locked in the crosshairs, as Republican party nominee — the man who is carrying on the legacy of both Abraham Lincoln and Ronald Reagan and is the standard-bearer for American conservatism — took to Twitter to bash "lightweight" Lemon:
.@dbongino You were fantastic in defending both the Second Amendment and me last night on @CNN. Don Lemon is a lightweight – dumb as a rock

— Donald J. Trump (@realDonaldTrump) August 10, 2016
The criticism that Trump is addressing stems from a fiery appearance on CNN Tonight Tuesday that featured a Republican congressional candidate named Dan Bongino. Bongino — who appeared on the show to largely defend Trump's second amendment commentary — got called out viciously last night by the CNN host directly:
"What you're saying right now makes no sense! I'm sitting at home, I'm watching Donald Trump. I have two ears and I have two eyes and I can see the reactions… We're not stupid!… You should be ashamed of yourself!"
Bongino returned fire, "I'm ashamed that you're talking to me as if I'm a child!," who then angrily continued shouting, "You don't know crap about this, Don! You're a TV guy! I was a Secret Service Agent! Now cut off my mic! Do what you wanna do!"
I for one call for a Lemon v. Orange Battle Royale, live on CNN. Who's with me?!
—
J.D. Durkin (@jiveDurkey) is an editorial producer and columnist at Mediaite.
[images via screengrab & Flickr]
Have a tip we should know? tips@mediaite.com