After Second-Place Finish In Maine, Ron Paul Campaign Boasts Of 'Victory' In Press Release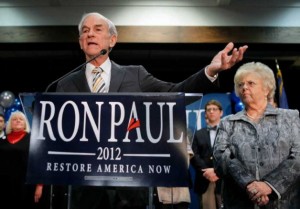 Presidential contender Ron Paul narrowly lost the Maine caucuses last night in a contest that some analysts noticed he had a realistic chance of winning. Paul's campaign was optimistic at their chances of placing ahead of Mitt Romney in the state, and reactions from his campaign at the narrow defeat were mixed. But with the Washington County caucus yet to vote and enough of a difference there for Paul to pull a last-second upset, the Texas congressman's campaign is spinning it as a victory.
RELATED: Ron Paul: 'If Enthusiasm Wins Elections, We Win Hands Down!'
The Paul campaign issued a press release last night, shortly after the results were released, with the title "RON PAUL VICTORY IN MAINE!" The campaign calls Paul's near-first place victory a "strong finish" and states that he was "barely nudged out" by Romney.
Paul performed well throughout the state, although his campaign's stronghold of Washington County did not report today for inexplicable reasons. Congressman Paul was barely bested by Gov. Romney by about 194 votes, a margin the campaign is confident it will make up with the 200 plus votes expected to come out of Washington County's caucus.

"Today's results show once again that Congressman Paul's campaign for liberty and a return to Constitutional principles is strong and growing," said Ron Paul 2012 National Campaign Chairman Jesse Benton. "We are confident that we will control the Maine delegation for the convention in August. Our campaign is so thankful to all of our supporters in Maine, and all over the nation, and we want them to know that we plan to take this message all the way to the White House."
The Paul campaign claims Washington County is one of its campaign's strongholds in the state, and during his post-election speech, the candidate said "It's almost like we could call it a tie." The campaign's official website suggests that the closeness of the race is further proof that Romney is not necessarily an inevitable nominee.
Maine is a state in Romney's backyard that he should've been able to walk away with easily. That Mitt almost lost to Ron tonight–and that Mitt still may lose to Ron in the days to come–does not bode well for the establishment candidate. Romney shouldn't have had to campaign in Maine and yet circumstances forced him to make a last ditch effort.
RELATED: Ron Paul On GOP Field: 'I Don't Think Any One Would Be A Lot Better' Than Obama On Important Issues
Paul's national campaign manager said in an e-mail sent out last night that the Texas congressman "will win the most delegates out of Maine tonight."
Have a tip we should know? tips@mediaite.com
Josh Feldman - Senior Editor