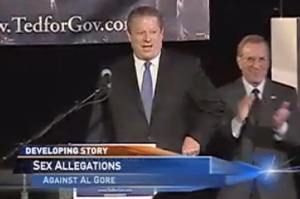 Reports have just surfaced that during a 2006 visit to Portland, the former Vice President was accused by a massage therapist of "unwanted sexual contact," but a lack of evidence led to no charges being filed. The story first appeared in the National Enquirer, but has since been picked up by mainstream news outlets including the Associated Press, the New York Times and Fox News. But the AP report ends with a Detective's claim that complainant "planned to take her case to the news media." Is this another example of check book journalism?
Perhaps this gives the news media a new angle on which to report the recent news that Al Gore and Tipper separation? An AP report outlining the basics of the story has been published in numerous news outlets, including the NY Times:
A lawyer for the woman contacted the police in late 2006, said the Multnomah County district attorney, Michael D. Schrunk. Mr. Schrunk said the woman, who has not been identified, had refused to be interviewed and did not want the investigation to proceed.

But in January 2009, she contacted the police and gave a statement in which she said Mr. Gore had tried to have sex with her during an appointment at the Hotel Lucia. The National Enquirer first reported the accusations on Wednesday.

A spokeswoman for Mr. Gore, Kalee Kreider, said he had no comment. Mr. Gore and his wife announced on June 1 that they were separating.
The growing scandal was first reported by the National Enquirer, an outlet with a varying reputation regarding scandal stories. In their initial web report, the tabloid makes specific claims regarding the veracity of these potentially damning allegations:
We have verified the 62-year-old former VP was in Portland at the time of the alleged incident – Oct. 24, 2006 – and we saw the $540 massage bill.

No criminal charges were brought against Gore, but the Portland police prepared a document marked "Confidential Special Report" – which records the explosive allegations of "unwanted sexual contact" by Al Gore "at a local upscale hotel."

The ENQUIRER is withholding the name of the 54-year-old woman making the stunning accusations because she is potentially a sex-crime victim.
According to the AP report, the Portland police spokesperson interviewed for this story claimed that the alleged victim had "contacted detectives this month and asked for a copy of her statement" and that the woman, according to the spokesperson, "said she planned to take her case to the news media." This small but significant note raises questions about whether the complainant may have sold her story to the National Enquirer.
Portland's Local News has also reported on this story as KGW's Anne Yeager filed the following report last night:
Have a tip we should know? tips@mediaite.com