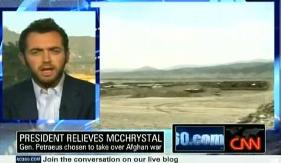 With Gen. Stanley McChrystal relieved of his Afghanistan duties in the wake of the Rolling Stone profile, the occasional TV talking head has put the blame on Michael Hastings for reporting too much.
But Hastings told Anderson Cooper last night that he believed Gen. McChrystal was "unfireable."
"I believed that Gen. McChrystal was unfireable," Hastings told Cooper, by satellite from Kabul. "I didn't think this story would have had this kind of immense reaction."
Hastings said he doesn't regret anything in the article, and the reaction he's heard from soldiers on the ground has been "very positive, specifically relating to the part of the story that deals with the new rules of engagement." (Although he did admit he wasn't volunteering the information that he was the author everyone was talking about.)
Cooper brought up Gen. David Petraeus, and asked the follow-up: "Do you think you'll get a chance to actually interview General Petraeus or maybe hang out with him anytime soon for a profile?"
"I'd love to ask about what he plans to do in the war in Afghanistan," said Hastings – not answering the rhetorical question over whether there would be an upcoming all-access Rolling Stone article about Gen. Petraeus' Afghanistan turn.
Most TV journalists have avoided placing any blame on Hastings, but there have been many who expressed shock at how Hastings was able to gain so much access (The Daily Show touched on this last night). This ignores Hastings' lengthy record as a war correspondent. Others, like Politico, (initially) implied a more mainstream media member would not have put forth the same article, for fear of retribution in the form of declining access. The truth is, the article was so ultimately successful precisely because it was fair and accurate – no one, including Gen. McChrystal, disputed the facts.
Here's the segment:

—–
» Follow Steve Krakauer on Twitter
Have a tip we should know? tips@mediaite.com