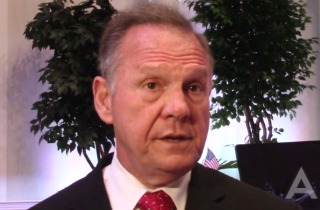 Alabama Chief Justice Roy Moore re-affirmed his deeply religious gay marriage stance when he said yesterday that the Supreme Court's decision has brought Christians to a "new world" of persecution. But today, Moore reportedly walked back on previous remarks that a new state court order will delay same-sex marriages for 25 days in spite of the ruling.
Moore previously stated that "what the order means is that within that 25-day period no [probate judge] has to issue a marriage license to a same sex couple." In a later statement, Moore said the order would not directly apply to Obergefell v. Hodges, but instead, only to motions or briefs addressing the case's effect.
"In no way does the order instruct probate judges of this State as to whether or not they should comply with the U.S. Supreme Court's ruling in Obergefell," Moore said.
Marriage advocates have said that a federal injunction is already in place, with terms that would cancel out any intended effects of Moore's order. Susan Watson, who heads the American Civil Liberties Union's Alabama branch, said that as long as there are any probate judges issuing marriage licenses to heterosexual couples, they are legally required to also provide for same-sex couples.
Moore is "just kicking and screaming and pitching a fit and trying to slow down marriage," Watson said. Between Watson's statements and the confusion expressed by judges and state officials, the effect of the order is currently unclear, with some indications being that judges only have to deny requests if they want to.
[h/t The Hill]
[Image via Screengrab]
— —
>> Follow Ken Meyer (@KenMeyer91) on Twitter
Have a tip we should know? tips@mediaite.com