Alan Colmes Confronts Trump Surrogate For Calling Khizr Khan a Terror Sympathizer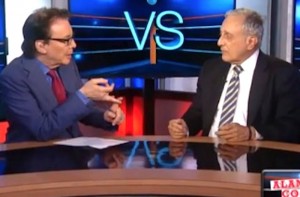 Alan Colmes raked Carl Paladino over the coals Wednesday as he questioned the prominent Donald Trump surrogate over his assertion that Khizr Khan believes in radical Islamic terrorism.
On two occasions over the past week, the co-chair of the Trump campaign's New York chapter went after Khan by saying he dishonored his son's sacrifice for America by attacking Trump at the DNC. Perhaps the most vicious slam Paladino used was when he said that Khan doesn't deserve to be recognized as a gold star parent.
Colmes repeatedly drilled into Paladino by asking why he thinks Mr. Khan is unworthy of the gold star title, and what good it does for the Trump campaign to keep attacking Khan over political disagreements.
Paladino tripled-down and called the Khans' actions "sick," and Colmes asked why he keeps bringing up unproven fringe arguments suggesting that the family sympathizes with and is in league with Islamic terrorists. Paladino deflected and said to look at the "basis" of Khizr Khan's words, but Colmes pressed on.
"You're calling him a terrorist sympathizer. You don't like his message, you don't think his message is accurate," Colmes said. "Does that make him a terrorist sympathizer?"
Eventually, Paladino resorted to the same explanation he gave for why he's convinced President Obama is a secret Muslim. "If it quacks like a duck, if it walks like a duck, it's a duck."
Watch the video above, via The Alan Colmes Show.
[Image via screengrab]
— —
>> Follow Ken Meyer (@KenMeyer91) on Twitter
Have a tip we should know? tips@mediaite.com