Ally of The Year: Obama Becomes First US President to Grace LGBT Magazine Cover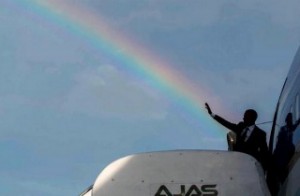 President Barack Obama became the first president photographed for the cover of an LGBT publication after being named OUT magazine's 2015 "Ally of the Year."
In an interview with the magazine, Obama said he fights for the LGBT community because one of the driving forces behind his political ambitions "was to help deliver on our promise that we're all created equal, and that no one should be excluded from the American dream just because of who they are."
"Part of being American is having a responsibility to stand up for freedom — not just our own freedom, but for everybody's freedom," Obama added.
While Obama has advocated for same-sex marriage in recent years, the President's changing position on the subject is well-documented. In 2008, Obama wrote, "marriage is the union between a man and a woman," but by 2010 he admitted his attitude was evolving on the issue. Still, It wasn't until 2012, that President Obama came out fully in support of same-sex marriage.
This happened. For the first time a sitting US President was photographed for a cover of a gay magazine. pic.twitter.com/Jiih3YNwz4

— Aaron Hicklin (@Aaronhicklin) November 10, 2015
Obama said by the time the Supreme Court ruled earlier this year that same-sex marriage was a constitutional right, he was "proud to say that love is love."
"I wasn't surprised by the Supreme Court's decision, but, like millions of Americans, I was proud and happy that it came down the way it did — and I was honored to stand in the Rose Garden and reiterate for every American that we are strongest, that we are most free, when all of us are treated equally," Obama said.
Obama also told OUT that the Kim Davises of America need to respect the law. "I am a man of faith and believe deeply in religious freedom," Obama said. "But at the end of the day, nobody is above the rule of law, especially someone who voluntarily takes an oath to uphold that law."
Have a tip we should know? tips@mediaite.com