Amanda Carpenter Blasts GOP's FISA Memo Conspiracy-Mongering: 'Gaslighting America'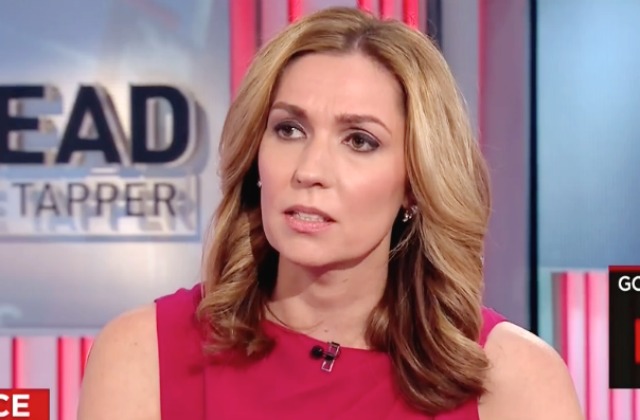 Conservative CNN contributor Amanda Carpenter went full throttle on Tuesday night in an op-ed that scorches Congressional Republicans for pushing #ReleaseTheMemo as a pure partisan maneuver to protect President Trump.
Last night, the GOP got enough votes to initiate the release of a classified House Intelligence Committee FISA memo, which supposedly contains shocking details about improper FBI surveillance of the Trump Campaign. Since this would supposedly prove all those allegations about a deep-state plot to thwart democracy and usurp Trump, Carpenter wrote a piece for Politico where she wondered why the GOP is more interested in drumming up political/media narratives instead of doing something to actually stop it.
"If this were a serious undertaking, congressional investigators would be collaborating with the Department of Justice, FBI and relevant Senate committees to save America from the threat within. But we're no longer dealing in the realm of facts and reason when it comes to grave matters of security and justice. We are, at Donald Trump's behest, fully engulfed in a narrative explicitly designed to impugn and destroy the credibility of the law enforcement agency tasked with investigating the Trump campaign's relationship with Russia during the 2016 election."
Carpenter's piece – titled I'm a Republican. Why Is My Party Gaslighting America? – accuses conservative figures of helping Trump create narratives so he can undermine the integrity and public faith of anything opposed to him. Carpenter pointed out how Trump has a pattern of making vague claims about his opposition, building up suspense without possessing any real evidence, then finding convenient ways to avoid responsibility once his narrative is challenged or disproven.
Carpenter argues that Trump has used this tactic to take down everyone from James Comey to Ted Cruz, and now, Capitol Hill Republicans are lining up to help him to the same to the Justice Department.
We are being gaslit into believing that, supposedly, those investigating Trump's ties to Russia are so biased and corrupt nothing they produce should be believed. Every once in a while, the true aims of this narrative are revealed. Rep. Matt Gaetz, the freshly-elected Republican congressman from Florida, let the truth slip. He told CNN's Jake Tapper in between his hits on InfoWars with Alex Jones, that there was "tremendous bias that should stop this probe from going forward."

"Stop this probe from going forward." Alas, there is always a purpose to Trump's gaslighting. Trump's firemen on Capitol Hill know their mission. Whether they succeed or not depends on our ability to see through the smoke. At this point, the future seems hazy.
For what it's worth, North Carolina Republican Mark Walker has seen the memo, and even though he's among those who wants it publicly released, he has contradicted some of his colleagues by saying it is not actually a damning revelation of Obama-era corruption.
[Image via screengrab]
— —
>> Follow Ken Meyer (@KenMeyer91) on Twitter
Have a tip we should know? tips@mediaite.com