America, Meet Your New Bad Guy: Saif al-Adel Named Acting Leader Of al Qaeda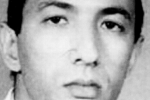 In the eyes of many Americans, U.S. foreign policy is a pretty binary construct that basically comes down to good guys vs. bad guys. As such, there is a long list of characters that are simply presented by media types and politicians alike as the "personification of evil" (sturm and drang!) Some have completely earned the distinction, others are open for debate. With Osama bin Laden literally sleeping with the fishes, CNN is reporting that al Qaeda has named an acting leader of the terror group: Saif al-Adel.
Writing for CNN.com, CNN's National Security Analyst Peter Bergen reports:
An Egyptian who was once a Special Forces officer has been appointed "caretaker" leader of al Qaeda in the wake of Osama bin Laden's death, according to a source with detailed knowledge of the group's inner workings.

Al Qaeda's interim leader is Saif al-Adel, who has long played a prominent role in the group, according to Noman Benotman. Benotman has known the al Qaeda leadership for more than two decades. He was once a leader of the Libyan Islamic Fighting Group, a militant organization that used to be aligned with al Qaeda, but in recent years renounced al Qaeda's ideology.

Benotman told CNN that based on his personal communications with militants and discussions on jihadist forums, al-Adel had been appointed interim chief of al Qaeda because the global jihadist community had grown restive in recent days about the lack of a formal announcement appointing a successor to bin Laden.
Update: And as if on cue, Drudge Report makes this their lead story with the headline "MEET THE NEW BIN LADEN."
Read the entire post here.
Have a tip we should know? tips@mediaite.com