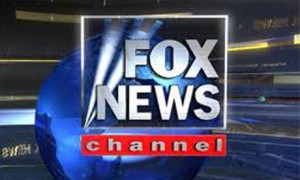 Though racked by internal scandal and jolted the dismissal of its founder and guiding star Roger Ailes, Fox News came in #1 in total viewers beating all cable networks in both primetime and total day during the week of the Republican National Convention.
During last week — from Monday, Jul. 18 to Sun, Jul. 24 — the cable news network was also #1 among all cable networks in primetime (8pm-11pm) for the coveted demographic of viewers aged 25-54. For primetime Fox averaged 4,212,000 viewers in total and 932,000 in 25-54.
"There's no doubt this has been a challenging time – amid the conventions and multitude of domestic and international breaking news stories, we had to face being the news last week as well," Rupert Murdoch wrote Tuesday in an internal memo, which was obtained by Mediaite.
Murdoch, chair and CEO of Fox's parent News Corporation, has stepped in as interim head of the networks following Ailes' ouster.
Murdoch continued, "Despite the extraordinary circumstances, we never compromised our dedication to the viewers and everyone's professionalism was on display throughout. As a result, FOX News once again beat all broadcast and cable networks, scoring our highest rated 10pm hour for convention coverage ever last Thursday. FOX Business Network also joined in the success, sweeping rival CNBC's convention coverage in both total day and primetime for the first time since launching in 2007."
"We are immensely proud of the team at FOX News and FOX Business. The power of the brand has never been stronger, and I look forward to working with all of you to continue the momentum," he concluded.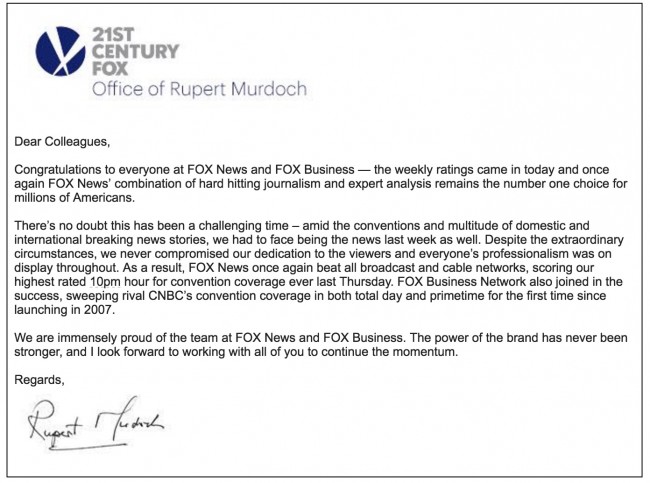 —
Sam Reisman (@thericeman) is a staff editor at Mediaite.
Have a tip we should know? tips@mediaite.com