Amy Schumer Talks Trainwreck Shooting: I Thought, 'I Wish I Never Wrote That Movie'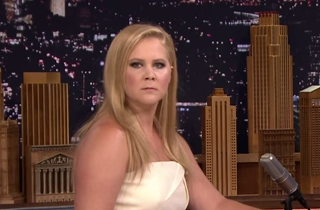 Last summer, Amy Schumer had a movie out called Trainwreck. She had written it and starred in it and her career seemed to be at a truly high point. During a showing of the film in Lafayette, Louisiana, however, a gunman opened fire, wounding nine and killing three, including himself.
After that, Schumer's press tour for the film became a press tour about the shooting. She became an outspoken advocate for gun law reform, too, appearing with her cousin, New York state senator Chuck Schumer at a press conference and calling for stricter gun control.
There have been a number of other shootings in the months since and the Lafayette shooting has faded from the headlines. In a recent Vanity Fair profile, however, Schumer spoke of it again. Here is how VF's Bruce Handy relayed her thoughts:
Schumer was in Los Angeles the night of the killings, still doing publicity for Trainwreck, then about to enter its second week of release, when she noticed "a million" missed calls from her publicist on her phone. "I was laughing before I called her back, because I thought it was going to be like a sex tape [had surfaced] or something. So I was kind of laughing, like ready to … " Schumer paused. "And then she told me there had been this shooting." Schumer paused again, her eyes moistening. "It really … I don't know. It's like when the Dark Knight shooting happened, and in Paris. The idea of people trying to go out and have a good time—you know, like looking forward to it?—I don't know why that makes me the saddest." She was crying now, but speaking in a steady voice. "So my publicist told me. And then I put on the news. I was by myself in a hotel, and I was just like, I wish I never wrote that movie."
She went on to say that she felt helpless and stupid even though she knew it wasn't her fault. Then, she got mad, and that's how she found herself the gun reform activist she is now. According to Handy, she now travels with a body guard because of the amount of death threats she received after speaking out against gun violence.
[image via screengrab]
For more from Lindsey, follow her on Twitter or Facebook.
Have a tip we should know? tips@mediaite.com