Ann Coulter Reportedly 'Railed' at Donald Trump During a Recent Private Meeting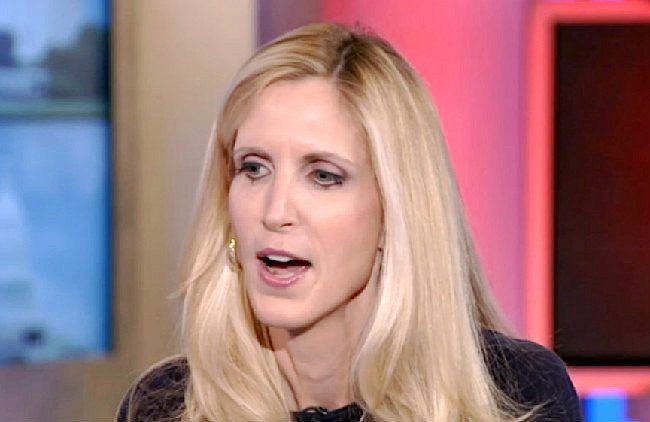 One of the reasons Donald Trump was able to win the presidency was his ability to gather support from conservative nationalists who rallied around his Make America Great Again slogan and his campaign promises of a border wall, Muslim ban, and tougher immigration laws.
One of his earliest supporters was right-wing provocateur Ann Coulter. However, since he became president, Coulter has become more and more critical of Trump and his administration for ignoring his base and not making progress on his promises.
According to the New York Times, White House chief strategist Steve Bannon recently brought in Coulter to speak to the president. And it appears she gave him a piece of her mind:
Frustration among conservatives has been building for some time. Weeks ago, Mr. Bannon brought Ann Coulter, the firebrand pundit, to see Mr. Trump, according to two people briefed on the visit. Ms. Coulter railed at the president that he needed to focus more on his core supporters.
However, it would appear that this visit didn't have that much of an impact. As the Times noted, this meeting happened weeks ago. Since then, the president has taken to publicly brutalizing and humiliating Attorney General Jeff Sessions in an apparent effort to get Sessions to quit. Conservative media is aghast at the way he's been treating Sessions since the former Alabama senator was the first member of the Senate to endorse Trump and lent his campaign credibility with conservative nationalists.
Following Trump's attacks on Sessions, Coulter told the Washington Post that it was "treacherous" how the president was handling Sessions:
Ann Coulter emails WashPost w/ msg for Pres. Trump: "Be a man – if you don't want Sessions, then fire him. You're the PRESIDENT."

— Robert Costa (@costareports) July 25, 2017
Coulter to WashPost: "It's starting to feel like Capt. Queeg. He's screwing with Sessions? Wow, is that treacherous!"

— Robert Costa (@costareports) July 25, 2017
Meanwhile, the president continued to assail Sessions this morning, criticizing him for allowing acting FBI Director Andrew McCabe to serve in that position.
[image via screengrab]
—
Follow Justin Baragona on Twitter: @justinbaragona
Have a tip we should know? tips@mediaite.com