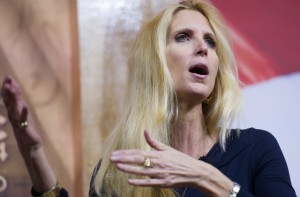 Ann Coulter's new column out yesterday is about as unsubtle as you can get, with the actual title "GOP Blames Victim of Media Rape."
Yes, it is Coulter's contention that Trump's treatment of by the press is akin to "media rape" because of the excuses the press uses in its coverage.
Per Coulter:
Apparently, the only news you'll be getting from now until the election is the media's own insane interpretation of every little thing Trump says or does. Anyone remember the week-long scandal about a star on a Trump retweet?

No one, not even Joe McCarthy, has ever faced this level of obsessive hatred from our constitutionally protected guardians of liberty in the press. Anyone else would be chewed up and spit out after one minute of such relentless attacks.
She went through a whole list of Hillary Clinton controversies and wondered why Trump gets so much scrutiny over everything (i.e. David Duke, "the media's psychotic claim that Trump called for Hillary's assassination"), but Clinton controversies are just kind of glossed over.
But what really angers Coulter is the excuse that Trump gets himself into these messes in the first place. That's where the rape analogy comes in:
There's no strategy for overcoming this level of media hostility. Trump has made some mistakes during this campaign, but he hasn't done anything wrong for months now. He could say "yes," and the media would change the question to, "Are you a child molester?"

Craven Republicans who blame Trump for the media's lies may as well blame a rape victim for wearing a short skirt. Except with Trump, it's the Muslim standard: They're blaming a woman's rape on being a woman.
You can read the full column here.
[image via Christopher Halloran/Shutterstock]
— —
Follow Josh Feldman on Twitter: @feldmaniac
Have a tip we should know? tips@mediaite.com
Josh Feldman - Senior Editor