'Another Fact-Free Piece': Megyn Kelly's Husband Hits Back at Vanity Fair Writer Over Article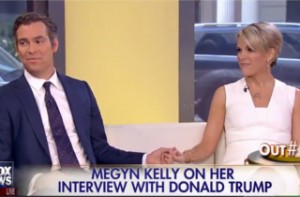 Earlier this week, Sarah Ellison of Vanity Fair wrote a piece stating that industry insiders expect that Megyn Kelly will replace Matt Lauer as TODAY host in the near future, and this was really what her move to NBC was all centered on.
In an earlier version of the article that has since been corrected, it was reported that Kelly had arrived at a party before the Golden Globes with a security detail. The party took place shortly after she announced she was leaving Fox News. As Ellison noted in her corrected piece, many at the party, having seen her with friends believed she was being protected by security.
Even in a room filled with stars, and the executives who create them, Kelly's entrance made quite an impression. On the one hand, despite being surrounded by people often far more famous, some attendees mistook Kelly's companions as her security detail. That impression stood to reason, given that being involvement in a public feud with Donald Trump, and being threatened by his bloodthirsty supporters, requires some extra protection. But her presence was both a reminder of her bizarre, epic year and a remnant of the grittier conservative cable-news culture that she appears to be attempting to leave behind. Also notable, according to a veteran television-news-industry insider who attended the event and has close ties to NBC, was that none of NBC News's stars were there. (NBC was broadcasting the award show the following night.)
This apparently angered Kelly's husband, Douglas Brunt a best selling author, who took to Twitter later that evening to slam Ellison.
Another fact-free piece from @Sarahlellison.Even her 1st 'fact' is wrong:@megynkelly went to party w/me-no guards. Accuracy worse from there

— Douglas Brunt (@DougBrunt) January 18, 2017
Almost as bad as In Touch Wkly. Irresponsible reporting not worthy of @VanityFair

— Douglas Brunt (@DougBrunt) January 18, 2017
Now, it would also seem from the tone of the tweets that Brunt wasn't just mad about the since-amended part of the article regarding Kelly's attendance at the party, as he slams it for being even worse from there.
Other details from the piece are that she would replace Lauer within a couple of years, her yearly salary falls in the $15 to $17 million range, that she's still negotiating her departure from Fox News and only a handful of folks at NBC knew about her negotiations with the network, among other tidbits.
So, there's quite a bit Brunt can be upset with.
[image via screengrab]
–
Follow Justin Baragona on Twitter: @justinbaragona
Have a tip we should know? tips@mediaite.com