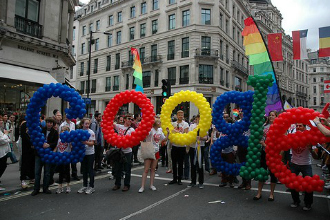 After Google announced a new global initiative called "Legalize Love," which aims to end laws that criminalizes homosexuality, the anti-gay American Family Association is considering a boycott against the global search-engine giant. Ah, yes, another corporate initiative to support gay rights, another anti-gay group looking for a boycott.
"'Legalize Love' is a campaign to promote safer conditions for gay and lesbian people inside and outside the office in countries with anti-gay laws on the books," a Google spokesperson said in a recent statement. On the AFA's radio network, general manager Buster Wilson criticized the "Legalize Love" campaign as an effort similar to ones the group has boycotted, decrying its potential "spread to every country where the search-engine giant has offices [including] the United States."
AFA is the same group that recently boycotted Oreo cookies after Kraft Foods posted a photoshopped image of the cookie stuffed with rainbow-colored layers of frosting. But if the group experienced any trouble boycotting the cookie titan, imagine how tough it'll be to boycott a mega-corporation like Google.
Wilson recognized this on the radio show, saying that a boycott would "test the meat of our convictions," because "this is going to be a hard one. A lot of us are so integrated into Google and Google products. It's more than just a search engine. Many of us have Android phones […] many of us use Google Calendar and Google Task and Gmail and […] YouTube. It's not just the search engine."
That would be a tough boycott to sustain. It would mean disconnecting from the realities of the modern world. Actually — come to think of it — this shouldn't be all that difficult for AFA, seeing as how that's what they want to do anyway.
Check out the radio clip below, via RightWingWatch:
(h/t RWW)
>> Follow Andrew Kirell (@AndrewKirell) on Twitter
Have a tip we should know? tips@mediaite.com