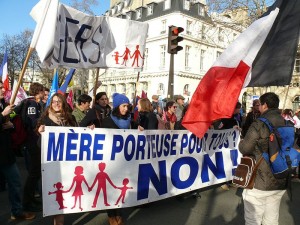 Remember how Vladmir Putin's United Russia political party created it's own "straight flag" in opposition to the Supreme Court's recent decision on same-sex marriage? Turns out, they weren't the first group to try and do this, and now that fact is getting them into trouble.
After the flag's rather non-fabulous debut, Russian and European bloggers and social media accounts pointed out that it bore a remarkable resemblance to graphics utilized by La Manif Pour Tous — France's premiere anti-LGBT group. When these accusations went viral, United Russia countered, saying they'd secured permission to use the designs.
But in a statement to BuzzFeed, La Manif Pour Tous president Ludovine de la Rochère said this was not so:
"We just discovered it in the press," the group's president Ludovine de la Rochère told BuzzFeed News. "Our logo has been used without our permission. The person who is in charge of the partnerships works directly for me so I would know for sure if there was any partnership between United Russia and the Manif pour Tous."

"Since it is a political party, we would never have agreed to make a partnership with it," she said. "Also, we disagree with the way they use our flag. For us, it is the flag of children's rights."
Just in case you missed that, La Manif Pour Tous is a nonpolitical entity that supports "children's rights," and not a political party like United Russia. The primary point of difference, as well as the main reasoning behind the claims of theft, is that the former never would have affiliated itself with the latter due to politics.
Regardless, let it be known that in their otherwise united front against the dangers same-sex marriage poses to the traditional families and children of the world, it all fell apart whenever questions of intellectual property were raised with suspicion.
[h/t The Moscow Times, BuzzFeed]
[Image via Wikimedia Commons/Peter Potrowl]
— —
>> Follow Andrew Husband (@AndrewHusband) on Twitter
Have a tip we should know? tips@mediaite.com