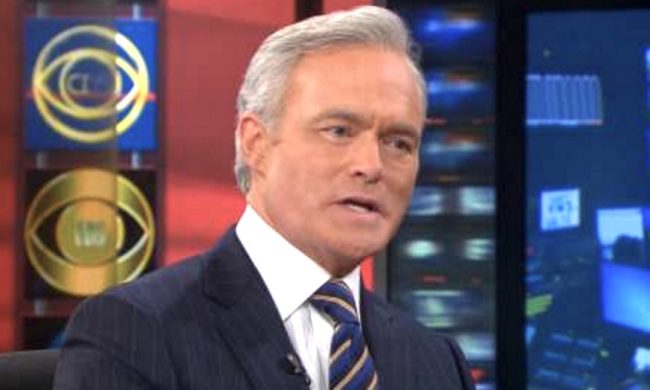 David Bauder of the Associated Press touted "soft-spoken" CBS Evening News anchor Scott Pelley as a "blunt evaluator of President Donald Trump" in a Tuesday item that spotlighted five of the journalist's "sharp" one-line jabs at the chief executive.
Bauder glowingly contended that Pelley "isn't another cable news bloviator. He's the buttoned-down anchor of a nightly news summary steeped in tradition, one that reaches between 7 and 8 million viewers a night on a network particularly popular in the nation's heartland — Trump country. His words carry weight."
The AP writer cited University of Maryland journalism professor Mark Feldstein, who underlined that Pelley's treatment of Trump is "such a departure from the traditional norm of objectivity that serious news anchors have always gone for over the last few generations." For example, on February 24, the CBS anchor claimed that "the president's real troubles today were not with the media, but with the facts."
Feldstein went on to claim that "Pelley's remarks are more effective because of the Texas native's restrained tone," and added that "it's refreshing and necessary and important that journalists do more than act as stenographers for whoever is in power, but actually try to get to the truth."
How "restrained" is Pelley in reality? He might not be shouting like the "cable news bloviator" Bauder pointed at, but the correspondent's first quote from the anchor gives a clear indication of the anchor's anti-Trump slant. Back in February 2017, Pelley trumpeted that "it has been a busy day for presidential statements divorced from reality."
Bauder also zeroed in on positive and negative reactions to the CBS journalist. Andrew Tyndall, "a consultant who monitors the content of nightly network newscasts," played up that "each of Pelley's characterizations is immediately backed up by stories that prove Pelley's point." Tyndall asserted that this is "not commentary. It's actual reporting."
The Associated Press correspondent then turned to Tim Graham of the conservative Media Research Center, who emphasized that "Trump's Democratic predecessor, Barack Obama, got a much friendlier reception on CBS." Back in 2011, when Pelley became the anchor of CBS Evening News, the MRC released a study documenting the journalist's record of liberal bias. The organization has regularly posted about the journalist since then.
Later in the article, Bauder quoted one of Pelley's predecessors, Dan Rather, who, like Tyndall, defended the CBS journalist's treatment of President Trump: "Nobody wants a broadcast that is shot through with partisanship, political or ideological propaganda. But that's not what Pelley is doing. Pelley is not saying that it's my opinion that the president has told a falsehood here. This is what the record shows. That's a different thing."
Of course, it isn't a surprise that Rather took no issue with Pelley's approach. Bauder disclosed that the former CBS anchor is an "outspoken Trump critic" himself. However, the AP correspondent failed to mention that Rather had to leave the evening newscast in disgrace in the wake of the Memogate controversy.
This is an opinion piece. The views expressed in this article are those of just the author.