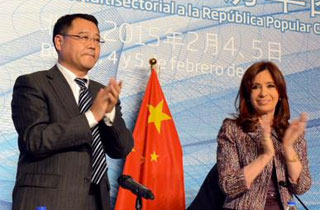 Argentina is in a debt crisis — a severe one, by all accounts — and to shore up the economy, President Cristina Fernandez de Kirchner visited China to negotiate a loan. The best way to get a foreign government to give you billions of dollars to bail out your economy, is to make fun of their accents.
According to Bloomberg News, Kirchner, who had just left a meeting with Chinese president Xi Jinping (not pictured above), tweeted the following out during a business conference:
"Did they only come for lice and petloleum?" Fernandez wrote in Spanish on her Twitter account in reference to 1,000 businessmen who attended a conference where she spoke. A minute later, she wrote "sorry, the levels of ridiculousness and absurdity are so high they can only be digested with humor."
It's a good thing that Twitter is blocked in China, because Argentina is heavily dependent on Chinese investment now: the country, which is currently in recession and recently suffered its second default in 13 years, will receive $11 billion as part of a currency swap with its biggest trade partner. In addition, China is poised to invest $4.7 billion for two hydroelectric dams in Argentina. Despite this, Bloomberg predicted that the Argentinian economy would contract this year.
Surprisingly, this is not the biggest scandal plaguing the unpopular president: she is currently accused of ordering the assassination of a special prosecutor who had drafted a warrant for her arrest, claiming that she had once worked out a secret deal with Iran to drop arrest warrants against two Iranians accused of bombing a Jewish center, killing 85 people in the process. Oh yeah, and she allegedly did it for oil.
[Bloomberg News]
[Image via Cristina Kirchner/Twitter]
— —
>> Follow Tina Nguyen (@Tina_Nguyen) on Twitter
Have a tip we should know? tips@mediaite.com