In an apparent move to scrub his ex-wife from his memory, former Gov. Arnold Schwarzenegger has removed Maria Shriver from his official governor's portrait, according to a report in Page Six.
The face of Shriver, a Kennedy family member, had originally appeared in the portrait, which was done in 2003, on a small lapel pin Schwarzenegger was wearing. But the pin was covered by "an ugly smudge of blue paint" that simply couldn't go un-noticed.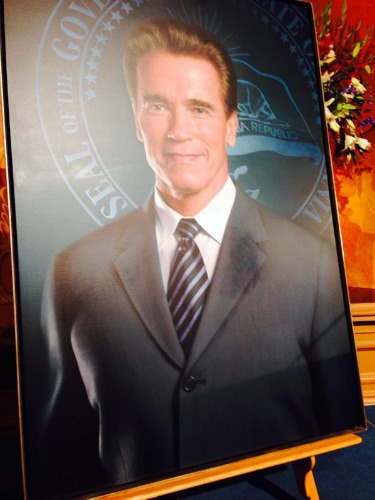 "Whoever touched it up did not do a very good job," a tour guide at the state Capitol in Sacramento, told Page Six. "It was softball sized, right there on his left lapel."
In fact, The Associated Press had reported on the unveiling of the portrait earlier this week, focusing on the fact that it was a "rare" political appearance for the governor, and did not mention what is now being called an egregious paint smear.
Their marriage ended in 2011 when it was revealed that Schwarzenegger had fathered a love child with someone from his household staff.
In addition, it was reported last year that Schwarzenegger, who was born in Austria, was planning a presidential run that included a challenge to the Constitutional requirement of birth in the United States to become president.
Schwarzenegger's office did not return Page Six's request for comment.
Nothing like erasing the memory of your ex-wife by erasing her from your official governor's portrait, am I right?
[h/t Page Six]
[Image via CBS Sacramento]
— —
>> Follow Andrew Desiderio (@forza_desiderio) on Twitter
Note: Mediaite intern Andrew Desiderio is a student at The George Washington University.
Have a tip we should know? tips@mediaite.com