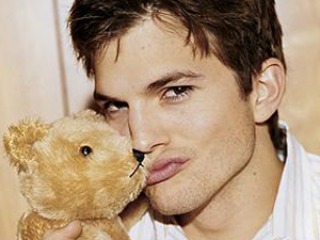 It must be difficult, being famous, particularly if it's for consistently playing people who are beautiful and sexy, but about as intelligent as a hemorrhoid. It's understandable that a person in such a position would want to make sure people knew he was about more than simply losing cars with dudes or looking ruggedly disheveled while wearing a beanie. Becoming involved in charity is a good place to start! Take, oh…. Ashton Kutcher for instance. The star of Two and a Half Men and various creepy camera commercials is involved in spreading awareness about human sex trafficking. Noble! Commendable! Hip! However, one must always be careful not to negate one's charitable work by, say, undermining the trauma experienced by victims of rape and sexual abuse. We realize that's a difficult thing to remember, so let's give you an example.
Last night, amid media coverage of coach Joe Paterno's forced departure from Penn State, Kutcher Tweeted the following:

Had Kutcher taken a moment to discover exactly why it was that Mr. "Pa" was being fired, he would have known that it was Paterno's handling (or mishandling, really) of rape allegations against his former Penn State football assistant, Jerry Sandusky, that eventually resulted in his dismissal. In brief: After Paterno was made aware that Sandusky had been literally caught in the act of raping a boy of about ten, he… did nothing. Sandusky was punished in such a way that would make a slap on the wrist seem like waterboarding: His locker room keys were taken away.
RELATED: Dear Media, Penn State Is Not A 'Sex Scandal,' It's A Rape Scandal
Twitter reacted swiftly to Kutcher's gaffe, mostly with a well-placed dose of humor and derision. Some came to the actor's defense, others put the gaffe into perspective.
Ashton since retracted that Tweet (by deleting it), and offered an apology. He also announced that he'd stop Tweeting until he finds a way to "manage" his feed:

For what it's worth, many on Twitter this morning are commending the actor for admitting to his mistake.
At any rate, his snafu serves as a lesson for people — famous and otherwise — to "think before you type," particularly when weighing in on issues that may be complicated or multi-layered, JENNY MCCARTHY. Plus, these days, admitting to a mistake quickly and with some semblance of sincerity is a good way of pleasantly shocking the general public. And, if this response on Kutcher's Facebook page is any indication, people will always be willing to forgive you as long as you sexy: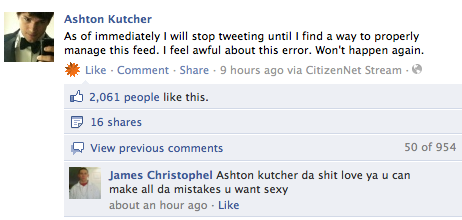 RELATED: NY Times Buries The Lede: Anderson Cooper's Ratings Surge At 8PM
Have a tip we should know? [email protected]