Associated Press: Obama 'Limiting Press Access In Ways That Past Administrations Wouldn't Have Dared'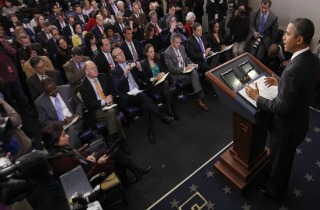 "[T]he [Barack] Obama White House is generating its own content like no president before, and refining its media strategies in the second term in hopes of telling a more compelling story than in the first," writes Associated Press reporter Nancy Benac. She says that "the Obama image machine" operated out of the White House has enthralled the press and colored the media's coverage of the administration. This condition, she writes, makes the way in which the White House blocks the media's access to the White House all the more vexing. "At the same time, it is limiting press access in ways that past administrations wouldn't have dared, and the president is answering to the public in more controlled settings than his predecessors," Benac writes.

RELATED: White House Press' Access Complaint Obscures Real Story: Why Keep Tiger Woods Under Wraps?
"I never would have dreamed of in terms of restricting access," said former press secretary for President Bill Clinton, Mike McCurry. "What gets lost are those revealing moments when the president's held accountable by the representatives of the public who are there in the form of the media."
In his first term, Obama engaged in 107 short question-and-answer sessions with reporters during events in the Oval Office, the Cabinet Room and similar settings. President George W. Bush, by contrast, had 354.

By the same token, though, Obama held twice as many solo press conferences as Bush: 36 compared to 17. And in the first term Obama did 674 interviews — TV, radio, Internet, print — compared to 217 for Bush and 191 for Clinton.
"There's no question that he's opening and closing the door at his choice," said Gerald Shuster, Pittsburgh University professor of political communication. "He's controlling the flow as much as he can."
Benac identifies information and commentary emerging from the White House, intended to add color and historical context to the president's statements or initiatives, as a potentially problematic development.
"They're not getting the balance of the alternative points of view. They're not getting the criticism that asks, 'Is this accurate?' It's not being put in historical context," said University of Pennsylvania's Annenberg Public Policy Center Director Kathleen Hall Jamieson.
> >Follow Noah Rothman (@NoahCRothman) on Twitter
Have a tip we should know? tips@mediaite.com