Associated Press Reports A Third Herman Cain Accuser Alleging Sexual Harassment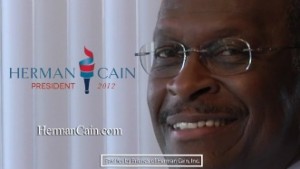 On the third full day of the Herman Cain alleged sexual harassment scandal, the Associated Press reports a third woman has come forward to allege that the current GOP frontrunner behaved inappropriately when he was head of the National Restaurant Association in the nineties. This latest accusation adds to the volume of the story, if not the depth, as the woman has opted to remain anonymous, and reportedly never filed a complaint against Cain.
She worked for the National Restaurant Association when (Cain) was its head. She told The Associated Press that Cain made sexually suggestive remarks or gestures about the same time that two co-workers had settled separate harassment complaints against him.
The employee described situations in which she said Cain told her he had confided to colleagues how attractive she was and invited her to his corporate apartment outside work. She spoke on condition of anonymity, saying she feared retaliation.
This latest report cuts two ways for Herman Cain. On the one hand, another anonymous claim, this one without any formal complaint or financial settlement, doesn't really add much to what has already been reported, but it does give the general impression of an out-of-the-woodwork pile-on. The Cain campaign didn't comment for the AP, but that's how their response will likely sound, that it's just a feeding frenzy.
On the other hand, this latest accuser isn't bound by any non-disclosure agreement, and if she is pushed hard enough by Cain's denials, there's nothing to stop her from shedding that anonymity. A flesh-and-blood victim is a lot more persuasive than an anonymous one.
Have a tip we should know? tips@mediaite.com