Atlantic Writer Goes to Premiere of Palin Film While Everyone Else Is At Harry Potter [UPDATED]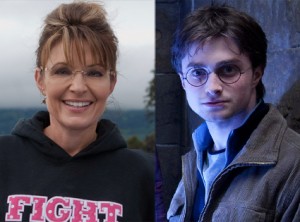 Call it a case of bad timing.
Sarah Palin's new documentary feature The Undefeated was released in select cities today, but its release has been completely overshadowed by the release of Harry Potter and the Deathly Hallows Part II, the final installment in the popular film series. Conor Friedersdorf, associate editor for The Atlantic, was in Orange County, California, one of the few cities where Palin's film is airing, and decided to go to the midnight premiere of the show so he could talk to Palin fans and ask them what they like about her.
Friedersdorf describes what the scene was like outside the theater when he arrived:
As I approached… I realized that most people present were dressed in costume. The crowd was either showing ironic solidarity with Christine O'Donnell, the tea party candidate who is not a witch, or else everyone was there to see the Harry Potter movie playing on a majority of the theater's 30 screens. Without any way of telling Palin moviegoers from Potter fans dressed up like muggles, I'd have to pay, go to the assigned theater, and look for interviewees.
He went to the theater where the Palin doc was playing, expecting to find other people in there with him. After twenty minutes, an usher noticed he was the only one in the room, and asked him "Why aren't you watching Harry Potter?"
But lest you think no one else showed up for the politically-charged film, Friedersdorf recalls two other people in the theater with him at one point. However, the political career of Sarah Palin was the farthest thing from their minds last night.
Friedersdorf saw two young women walking in during the previews, so he decided to ask them a few questions about why they chose to come to the Sarah Palin biopic. The answers he got were less than impressive.
"So, um, what made you come out here tonight?"

"We're going to Disneyland tomorrow," Jamie said, "but she just got here, so we decided we should go out."

"We looked online for the latest movie playing," Jessie added. "But all the Harry Potters were sold out, and then we saw 'The Undeafeated.' We don't even actually know what we're seeing."

"Well welcome to California," I said. "You're about to see a documentary about Sarah Palin."

"Oh, really?" they said, and started giggling again. I think they were expecting an action flick.
They walked out 20 minutes later. No one else showed up during the movie, except for a couple who snuck into the near-empty theater toward the end to make out in the back row.
It just goes to show you: in the middle of summer, people would rather watch big box-office names with lots of special effects than a documentary about a controversial American political figure. Or any documentary for that matter. But in all fairness, right now the Palin film is in limited release, while you're likely to find Deathly Hallows in almost every theater in the country.
Would you rather see the final installment in the Harry Potter series or the Palin documentary?
You can read Friedersdorf's piece for the Atlantic here.
UPDATE: The conservative blog Freedomist has cast some doubts on Friedersdorf's version of events, suggesting that he attended a showing that was not publicized at all.
The facts show that the only way Conor Friedersdorf could have found that showing of THE UNDEFEATED is if someone from inside the movie theater, someone who must have arranged for this 'special' midnight showing, had called and let him know where to be so that he could find an 'empty theater' and write his story, his hit piece in an attempt to stop the Palin Movie, The Undefeated, from being seen.
The site claims the midnight showing was never listed online, and they even go so far as to accuse Friedersdorf "of working in collusion with someone in THE BLOCK at Orange CA, perhaps a movie theater manager" to frame his story with a pre-set narrative. The site e-mailed him for comment, but he has not responded as of yet.
Update, Part II: Fridersdorf tells Mediaite "The movie was advertised in the normal Los Angeles Times listings on Thursday!" He then offered the following scanned listing from the Thursday edition of the local paper:
Have a tip we should know? [email protected]
Josh Feldman - Senior Editor