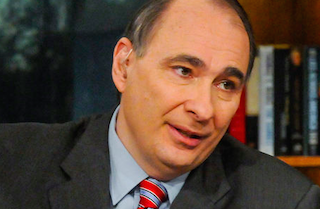 Former Obama campaign strategist David Axelrod said Wednesday that Hillary Clinton needed to emphasize "humility" in her 2016 run, and create a marked contrast from her 2008 behemoth of a campaign — which Axelrod (narrowly) defeated.
"Humility is the order of the day," Axelrod told the Des Moines Register's Jason Noble. "In 2007, her campaign was this juggernaut of inevitability and it was a top-down experience. Voters don't like to be told that their decision is predetermined. They want to be asked for their vote and more than that they want to have a genuine connection with the candidate."
RELATED: Halperin Praises Clinton's Newness: 'We've Never Seen Her Get a Burrito Before'
In Iowa for a speaking engagement as Clinton arrived for the beginning of her campaign, Axelrod said that by revealing her vulnerabilities Clinton could become more relatable, a lesson he said she learned after losing the Iowa caucus in 2008 to the ascendent Obama.
"After she lost the Iowa caucuses in 2008, she threw caution off and her vulnerabilities were more obvious and her sense of identification with people's struggles was more obvious and I think she was a much more effective candidate," he said. "The candidate you see in Iowa today is much closer to that candidate, and I think that's authentically who she is."
This humble scribe argued Sunday that Clinton's rollout was designed to read her story of reinvention into the American zeitgeist. YMMV on whether that's "humility."
[h/t Des Moines Register]
[Image via screengrab]
——
>> Follow Evan McMurry (@evanmcmurry) on Twitter
Have a tip we should know? tips@mediaite.com