When Will We Find Out Who Yelled "Baby Killer" About Bart Stupak? (Update: Solved)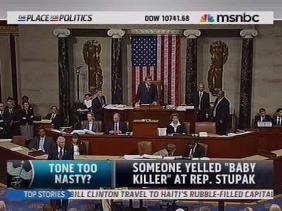 Which Republican Congressman went all Joe Wilson last night and yelled "baby killer" about Rep. Bart Stupak?
It's been more than 12 hours and we still don't know – which is kind of surprising. Let's do some digging and see if we can narrow down the options.
Here's what we know – NBC's Luke Russert says it was someone with a southern accent, and Rep. Joe Barton says he heard it, he knows who it was, and it was someone from California or Texas. But Rep. John Campbell of California points the finger squarely at Texas.
The Dallas Morning News talked to a bunch of GOP Congressmen from Texas, and got a lot of denials. Here are all the current Texas GOP Representatives, and who said they didn't yell "baby killer"
CHECKLIST:
TX GOP CONGRESSMAN – DID THEY SAY IT?
* Barton, Joe, Texas, 6th NO
* Brady, Kevin, Texas, 8th NO
* Burgess, Michael, Texas, 26th NO
* Carter, John, Texas, 31st NO
* Conaway, K. Michael, Texas, 11th
* Culberson, John, Texas, 7th
* Edwards, Chet, Texas, 17th
* Gohmert, Louie, Texas 1st NO
* Granger, Kay, Texas, 12th NO
* Hall, Ralph M., Texas, 4th NO
* Hensarling, Jeb, Texas, 5th NO
* Johnson, Sam, Texas, 3rd
* Marchant, Kenny, Texas, 24th
* McCaul, Michael T., Texas, 10th NO
* Neugebauer, Randy, Texas, 19th
* Olson, Pete, Texas, 22nd NO
* Paul, Ron, Texas, 14th
* Poe, Ted, Texas, 2nd NO
* Sessions, Pete, Texas, 32nd NO
* Smith, Lamar, Texas, 21st NO
* Thornberry, Mac, Texas, 13th NO
If we believe them – and really, why would any Congressman stretch the truth – that leaves a few options: Conaway, Culberson, Edwards, Johnson, Marchant, Neugebauer and Paul. Look, it wasn't Ron Paul. Could it have been Chet Edwards, who was once rumored to be a VP candidate in 2008? No it couldn't have been because he's a Dem. Nevermind…
> Update at 1:50pmET: The word on Twitter is it was Rep. Randy Neugebauer.
> Update at 1:55pmET: And now it's confirmed. Neugebauer has released a statement apologizing, although he says the comment was directed at the bill and not Stupak specifically.
And to whet your appetite for when we eventually learn who said the infamous phrase last night, here's the cablers chatting about "baby killer" today (and on the next page, see Stupak talk about being called "baby killer" in an FNC interview today):

>>>NEXT PAGE: Stupak responds to being called "baby killer":
Have a tip we should know? tips@mediaite.com