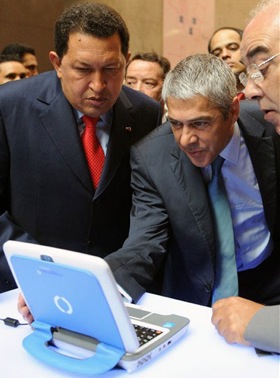 Venezuelan leader Hugo Chavez is ready to find out what all the hype surrounding this "internet" thing is all about. Chavez announced on his weekend variety show Aló Presidente yesterday that he is about to expand his media empire to include a blog, or a "battle trench," as he called it, where he could speak freely and openly about the issues that concern him. Funny, since last week he was railing against those who have mistaken the internet for a place "where you do and say whatever you feel like."
It's good timing for the authoritarian leader to go into writing. Now that an opposition (and a nation) ravaged by arrests, corruption, and mysterious disappearances has been mostly tamed, he won't have to face competition from smarter or more competent writers. Chavez described his new website as "candanga"– literally "the devil," but he probably meant "awesome"– and warned that he would be using the page to both express his feelings and "communicate with the enemy– let them hit me; I'll hit back."
It sounds like he finally gets the internet – except he thinks Twitter is a "terrorist" organization and feels threatened by Blackberries (though that might be Colombian singer Juanes' fault). He'd better hurry up putting the site together though since, after all, this is the internet, and there is already a fake "Hugo Candanga" blog. Enjoy it before the culprits get arrested, hispanophones!
Chavez isn't the first repressive dictator to experiment with internet journalism. Until recently, Ahmadinejad.ir, the Iranian leader's blog, was up and running with his "colorful" thoughts on everything from foreign affairs to morality and the family. Last January, his site was hacked and, from the looks of it, never seemed to have recovered. And Chavez's Papa Bear, Fidel Castro, still has a regular column in the national newspaper Granma that appears online every week despite serious internet conjecture suggesting that the former 50-year dictator isn't even alive.
Welcome to the blogosphere, Hugo! Let's see if you last longer than Mahmoud Ahmadinejad.


Have a tip we should know? tips@mediaite.com