Baier To Moderate Debate Between McMahon And Blumenthal In Suddenly Close Race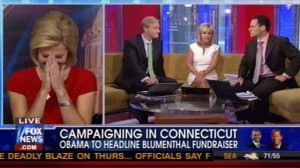 The Connecticut Senate Race has suddenly gotten close – and FNC's Bret Baier will soon be moderating a debate between the two sides.
This was part of a profile of the Special Report anchor by Baltimore Sun TV critic David Zurawik that describes Baier's strong ratings and more.
Baier, who has almost double "the combined audience of his competitors on CNN and MSNBC," will moderate the debate, his first, on October 4:
The point at which the former Fox News White House correspondent finds himself already includes signs of his new status. He has been invited for the first time in his career to moderate a televised debate — a role more often reserved for the likes of Jim Lehrer or Bob Schieffer of public and network TV. This one will be held Oct. 4 in Hartford, Conn., in a hotly contested race between Democrat Richard Blumenthal and Republican Linda McMahon for a U.S. Senate seat.
It's almost inconceivable that this race could suddenly be so close – a unique battle in a Democratic state that features a candidate on the decline because of his war record lies and another who was a regular character in the WWE, which she co-owns. McMahon was down nearly 30 points just months ago – now she's six points behind Blumenthal.
On Fox & Friends this morning, Laura Ingraham, a Connecticut voter, couldn't hide her excitement and surprise over the turn of events (hence, the image). Although McMahon "wasn't someone I supported," Blumenthal she says is "about as attractive a political candidate – he's like a toothache." Also, "She might not have been all the conservatives' favorites, but she is a force to be reckoned with.
Here's Ingraham today:

——
» Follow Steve Krakauer on Twitter
Have a tip we should know? tips@mediaite.com