Barney Frank Responds To Criticism Over Comparing Gay GOP Group To 'Uncle Tom'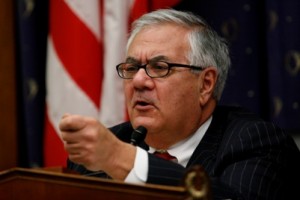 Last week Congressman Barney Frank caused a stir at the Democratic National Convention when he said that the Log Cabin Republicans, a pro-gay group, are "called the Log Cabin club because their role model is Uncle Tom." LGBT groups all over the country, including the Human Righs Campaign, distanced themselves from Frank's comments. The Log Cabin Republicans said Frank was spewing "bile," and today Frank responded by doubling down on his criticisms of the conservative gay rights group.
RELATED: Barney Frank On Gay GOP Group: 'Their Role Model Is Uncle Tom'
Frank argued the Log Cabin Republicans are as offended at him as he is at the Republican party continuing to speak out against giving gay people equal rights, saying that the contrast between the presidential candidates could not be more stark. Frank offered this simple explanation for why he used the "Uncle Tom" language.
But my use of "Uncle Tom" was based not simply on this awful fact that they have chosen to be actively on the wrong side of an election that will have an enormous impact on our right to equality, both in fact and in the public perception of the popularity of that cause. If the Log Cabin Republicans – or their even more outlandish cousins, the oddly-named GOProud – were honestly to acknowledge that they let their own economic interests, or their opposition to strong environmental policies, or their belief that we need to be spending far more on the military or some other reason ahead of any commitment to LGBT equality, and on that ground have decided to prefer the anti-LGBT candidate to the supportive one, I would disagree with the values expressed, but would have no complaint about their logic.

The damaging aspect of the Log Cabin argument, to repeat the most important point, is that they may mislead people who do not share their view that tax cuts for the wealthy are more important than LGBT rights into thinking that they are somehow helping the latter by supporting Mitt Romney and his Rick Santorum platform.
Frank asked why the Log Cabin Republicans would want to reward the GOP candidates despite having made little to no progress in shifting the party's views on gay marriage. He pointed to a comment made by the head of LCR that Paul Ryan is "willing to engage" with gay Republicans. Frank dismissed the idea that having a few anti-gay politicians engage in a dialogue would be enough to get any gay group's support, and said that by accepting that "subordinate status," the Log Cabin Republicans have earned the "Uncle Tom" criticism.
h/t BuzzFeed
—–
Follow Josh Feldman on Twitter: @feldmaniac
Have a tip we should know? tips@mediaite.com
Josh Feldman - Senior Editor