Ben Carson Walks Back Comments About Guns, Holocaust: Never Meant to 'Diminish' Tragedy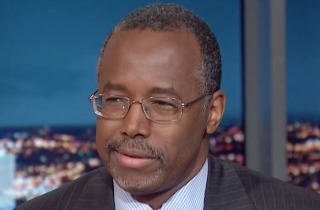 Ben Carson wrote an op-ed today in which he walked back, but did not apologize for, his comments on guns and the Holocaust. Carson said last week that if Jews in Europe had been armed and their guns hadn't been taken away by the Nazis, they could have put up more armed resistance that could have lessened the horror of the Holocaust.
The Anti-Defamation League said Carson's remarks were flat-out false, and it certainly didn't help when Fox News' Dr. Keith Ablow defended Carson by saying the Jews didn't do enough to fight back.
Well, Carson has an op-ed in The Jerusalem Post saying that "I never intended for my words to diminish the enormity of the tragedy or in any way to cause any pain for Holocaust survivors or their families."
He acknowledged that there were those who resisted the Nazis, but then pivoted to talking about contemporary Israel and the plight of Jews in the Middle East today.
Carson knows that "serious threats remain" and strongly believes in the bond between the United States and Israel. The closest he got to criticizing the Obama administration was in this paragraph:
While Israel must be able to go it alone, it should never have to stand alone. In recent years, personalities and politics have been permitted to negatively affect America's relationship with Israel despite the fact that the bonds between our two nations are so unique and vital. When the enemies of Israel and the United States sense rifts between us, they are emboldened and grow even more dangerous.
You can read his full op-ed here.
[image via screengrab]
— —
Follow Josh Feldman on Twitter: @feldmaniac
Have a tip we should know? tips@mediaite.com
Josh Feldman - Senior Editor