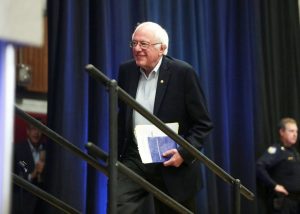 If we've learned anything from the tour de force that is Hamilton's success on Broadway for the last year and a half, it's that people love musicals about guys who were almost President.
Okay, maybe we've learned a few other things, too, like that art and politics are inextricably linked so long as citizens continue to make art.
Speaking of citizens making art about woulda-coulda-shoulda-been presidents, Meira Marom recently premiered her one-night-only event, Feel the Bern — A Musical Of the People, By the People, and For the People, in Burlington, Virginia.
According to the Village Voice, the musical about Bernie Sanders is Christmas-themed because in spite of being Jewish, "Performed by a cast of eight, Marom's musical is Christmas themed. Bernie Sanders is Jewish, but that doesn't matter. "Like Santa, Bernie is kind of the ultimate giver. No one gets left behind. No matter your means or background, you get a visit from him. Only his gifts are the exact opposite of Santa's consumerism-fest."
The festival being celebrated isn't exactly Christmas as we know it, though; it's NotMeUs, a Sanders-focused holiday that features the man himself returning to earth as Sanders Claus.
Oh, and it's post-apocalyptic, too:  It takes place in 2132, when global warming has destroyed parts of the country and made Cleveland the new East Coast.
Head over to the Voice for the full review and pay attention to some of the lyrical tidbits shared, like this one, sung to the tune of "Santa Baby":
Santa Bernie,

Please slip some healthcare under the tree, for me…

Been a pauper all year;

Santa Bernie, so hurry to the White House right now!
[image: Gage Skidmore]
Have a tip we should know? tips@mediaite.com