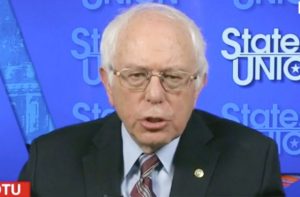 Universal health care once seemed like a pipe dream, but over the course of 2016, slowly but surely, Vermont Sen. Bernie Sanders helped bring it to the mainstream. So much so that a path to universal wound up in the Democratic party's 2016 platform, and as of this week, Democratic party stars ranging from Senators Kamala Harris and Kirsten Gillibrand to Senators Cory Booker and Al Franken agreed to co-sponsor Sanders' universal healthcare bill.
Beyond universal health care finally, decisively becoming a central tenet of the mainstream Democratic party, this bill also shows us that public funding for abortion has also become a value of the party's mainstream. In 2016, Sanders and former Democratic nominee Hillary Clinton both publicly opposed the Hyde amendment, a law that since 1976 has barred federal funding for abortion except in cases of rape and the safety of the mother. And now, Sanders' bill would provide universal coverage of abortion services for all women.
It may be that this tenet of the bill — if not the bill itself — is dead on arrival in a GOP-controlled senate. But it shows that this could be the future if the Democrats ever win back Congress, and is comforting after months of Democratic leadership suggesting that abortion rights — or the law that gives women autonomy and safe decision-making power over their bodies — is negotiable, and anti-abortion Democrats could be eligible for fundraising and support from the party.
At a time when "identity politics" — or a mass umbrella of supposedly trivial issues that include whether LGBT people face legal discrimination, whether young African-American men can be safe from police brutality, and, of course, whether women have the right to make safe decisions about their bodies — have continuously been scorned and blamed for the party's 2016 loss, the promise of Sanders' bill and its wide support should comfort women's rights advocates.
That being said, public funding for abortion remains controversial across party lines. Former Vice President Joe Biden and former Democratic vice presidential nominee Tim Kaine both took iffy stances on it. Further, Planned Parenthood and some of its supporters, despite publicly opposing Hyde, almost seem to justify the organization's existence and right to receive federal funding by citing the Hyde amendment, which is arguably counterproductive to the abortion rights movement at large.
But even as public funding for abortion access unfailingly incurs wide debate, public funding for wars — in which living human beings fight and die at the will of the government — has always been widely accepted. The costs of the taxpayer-funded Iraq War could have paid for four years of tuition at a public college for every single one of the nation's 21 million college students. President Donald Trump's weekend trips to golf at Mar-a-Lago reportedly cost about $3 million per trip. The Benghazi hearings cost taxpayers millions — like every investigation into the conduct of Planned Parenthood, for no reason other than the organization's donating fetal tissue to help find medical cures.
And what return do taxpayers get from any of this?
On the other hand, objectively speaking, public funding for abortion is an investment in women's health and safety in a country with the highest rates of maternal mortality in the industrialized world — sometimes due to botched, attempted self-terminations — and one in which states with less abortion and family planning resources are associated with poorer health for women.
It's also an investment in the economic enfranchisement of women, who make up half of the workforce, by staving off all the high costs associated with abortions — travel and lodging fees, losing pay from missing work, required ultrasounds — as well as child care for low-income or single mothers. Public funding for abortion could mark a crucial step toward the economic equity of men and women, who are more likely to live in poverty.
Many Democratic lawmakers can recognize that abortion is a human right, but apart from helping to destigmatize the procedure, their words and beliefs do almost nothing for the women who suffer from being unable to afford the procedure, or who are forced to break their banks to have it. In recent years, the difference between rights and privileges has been epitomized by debate around universal health care. And Sanders' bill, co-sponsored by many Democratic leaders who represent the party's future, for the first time recognizes abortion as a right — not a privilege.
This is an opinion piece. The views expressed in this article are those of just the author.