'Beyond Stupid': Mitch McConnell Reportedly Furious at White House As Health Care Stalls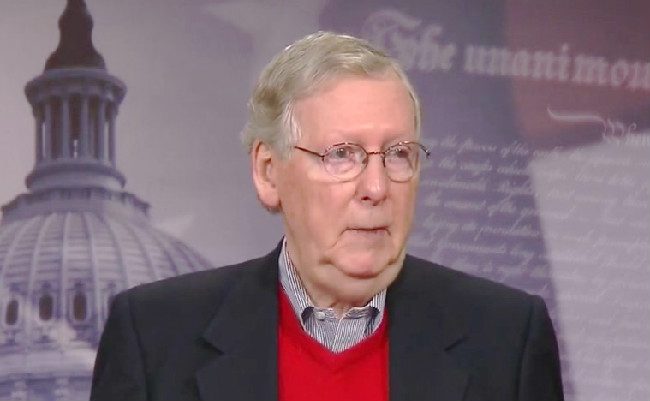 The Republican effort to repeal and replace Obamacare took took a major step backwards yesterday when Senate majority leader Mitch McConnell announced that there would be no vote on the GOP effort before the fourth of July recess. The decision ensures that his caucus will return home to their constituents without any major accomplishments and will likely face an earful.
Amid the recriminations that will likely ensue, news emerged yesterday that Leader McConnell saved particular ire for the White House and President Trump. In a call to Chief of Staff Reince Priebus, McConnell blasted White House plans to target on-the-fence Republican Senator Dean Heller with a million dollar attack ad buy as "beyond stupid," the New York Times reported.
Per the Times:
Over the weekend, Mr. McConnell made clear his unhappiness to the White House after a "super PAC" aligned with Mr. Trump started an ad campaign against Senator Dean Heller, Republican of Nevada, after he said last week that he opposed the health care bill.

The majority leader — already rankled by Mr. Trump's tweets goading him to change Senate rules to scuttle Democratic filibusters — called the White House chief of staff, Reince Priebus, to complain that the attacks were "beyond stupid," according to two Republicans with knowledge of the tense exchange.
Brutal – The ad buys were pulled.
While nobody can see the future, Heller — widely considered the Senate's most vulnerable Republican in 2018 — would have likely been ill-served by an internecine GOP barrage over health care.
With the healthcare fight turning out to be much tougher than McConnell likely suspected, the Senate's master tactician is revealing he has little time for needless meddling from the White House. The famously mercurial president has often stepped in his own way throughout the process. After passage of the House health care bill, Trump held a celebration in the White House rose garden — before publicly throwing the House GOP caucus under the bus by calling the bill "mean."
[image via screengrab]
Have a tip we should know? tips@mediaite.com