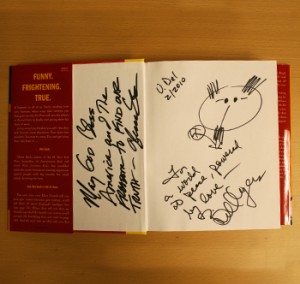 While following up on the various charity auctions being run to fund Glenn Beck's August 28 "Restoring Honor" rally (and then the  Special Operations Warrior Foundation), I came across some items that are the very definition of "strange bedfellows."
Beck fans have the opportunity to bid for a dinner with Andrew Breitbart, or copies of Beck tome Arguing with Idiots, signed by Beck and 2008 campaign relic William Ayers, or Beck and his fellow Mediaite fan Van Jones. Of particular interest is the very clever top bidder for the Breitbart dinner: Nevada congressional candidate Steven Nohrden.

Nohrden's $2500 bid is tops so far to dine with Breitbart, but he's also leading with a $5,000 bid on the Bill Ayers book. Winning dinner with Breitbart would be a great photo op for the Tea-Party-leaning candidate, and probably a bargain at twice the price.
Norhdren is also top bidder on an auction to rub elbows with Newt Gingrich, but has so far passed on coffee with Mr. and Mrs. Bobby Jindal, and a picnic on the steps of the Capitol with Michele Bachman.
Bidders can also win a chance to lunch with Rusty Wallace, and drive 60 laps in a "real NASCAR." I don't guess they'll be tooling around the track in the entire National Association for Stock Car Auto Racing, but I guess "NASCAR car" sounds too awkward. There's also a random auction for a pair of stereo speakers.
As we have reported here before, each auction carries the disclaimer that all funds raised will first go to pay the cost of Beck's rally, before any money goes to Special Operations Warrior Foundation. The charity told Mediaite that the rally's estimated expenses were met several weeks ago, but that wasn't enough to keep ABC from withdrawing an auction that featured an introduction to George Stephanopoulos. The GMA host has made a separate, personal donation to Special Operations Warrior Foundation.
Have a tip we should know? tips@mediaite.com