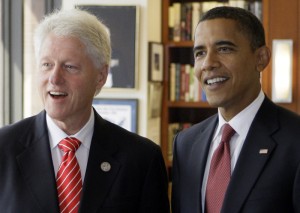 Yesterday, former President Bill Clinton took part in a conversation with former English Prime Minister Tony Blair at Philadelphia's National Constitution Center. Blair used the event to mark receiving the Center's 2010 Liberty Medal, and to promote his new book, A Journey. Clinton's most-publicized action there, on the other hand, was airing out a months-old beef with Rachel Maddow.
It seems that Maddow, on her March 31 show, called Clinton "the best Republican president the country ever had" (transcript here). Clinton took exception to this, and though he didn't mention Maddow by name, Politico reported he did the next best thing:
"One of the leading television commentators on one of our liberal cable channels said I was the best Republican president the country ever produced, which would come [as] quite a surprise to the Republicans, half of whom still think I'm a closet communist…What she meant by that was I didn't necessarily follow their 'conventional wisdom.' I said, 'What do you mean?!'"

Clinton said he accomplished more for the poor and middle class than traditional, New Deal-era liberalism ever could have. He touted his welfare-to-work program, which he said cut the rolls by 60 percent.
In fairness, Politico did also say Clinton's was "a mostly subdued and statesman-like performance," but he had to know his obviously-about-Maddow remark would ultimately raise the most eyebrows. Jim Newell at Gawker opined that while Clinton might have used the welfare-to-work example to tout his success as a Democratic president, it was really a "fundamentally Republican" idea to begin with. Another point Newell raised that we liked: how about Clinton goes on Maddow's show and debates her on it there? More productive than his entirely transparent shot yesterday, and good television to boot.
Something else worth mentioning: Newell notes that "the current Democratic president is essentially following Clinton's model (with an even less cooperative minority party)," while the Huffington Post shares the context of Maddow's original "Republican president" crack:
Maddow made the comment during a segment about how President Obama had been moving to the right on health care and expressing her worries that Obama's presidency was beginning to look like Clinton's.
So the last two Democratic presidents have both tried, with varying degrees of success, to get legislation passed by positioning themselves toward the center, rather than left – concerning more staunchly left-wing commentators in the process? Maybe he ws right, maybe he wasn't, but when Jon Meacham said two years ago that the U.S. is still a center-right country…well, it's at least not too hard to see why he said it.
Photo via
Have a tip we should know? tips@mediaite.com