Bill Shine's Wife Darla Complained She Couldn't Use N-Word and Spread Conspiracy Theories About 'Blacks'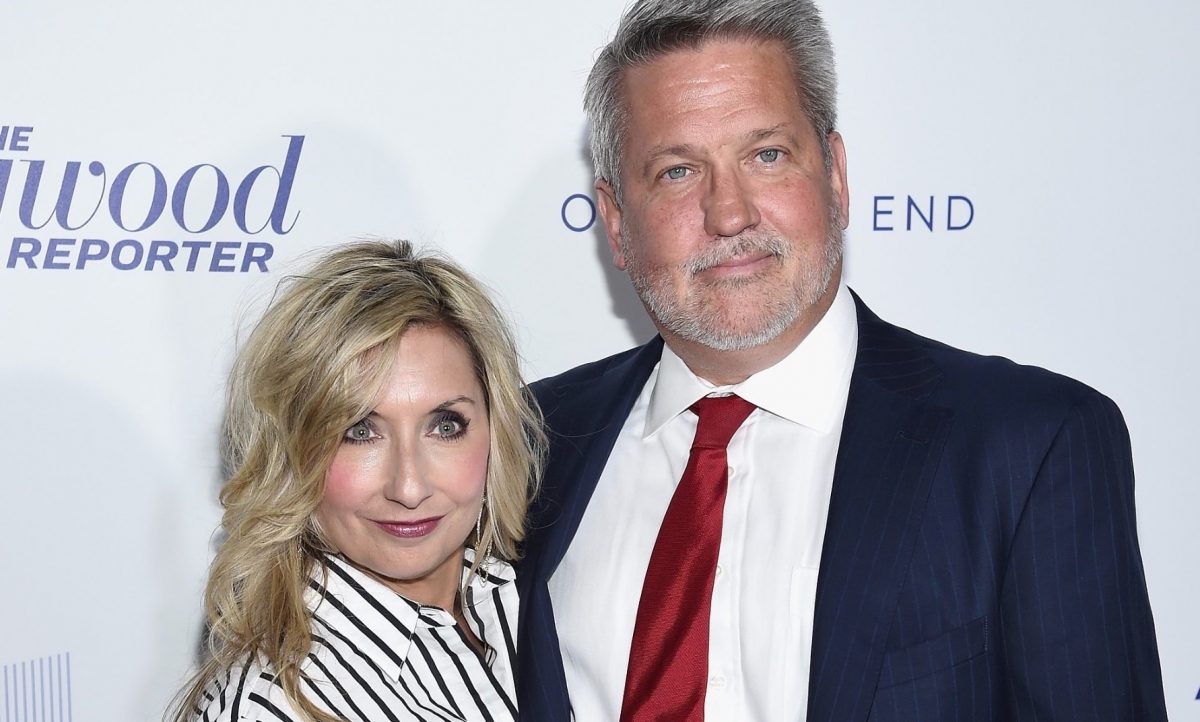 The wife of Bill Shine — former Fox News co-president who just joined the Trump administration as White House communications chief — has a lengthy history of defending racists, promoting unfounded anti-vaccination conspiracies, writing about "Islamic Insanity," and making racially-charged remarks on her social media pages.
Darla Shine made these remarks primarily on her Twitter account, @darlashine, which was deleted as soon as the White House announced that her husband was officially joining the Trump administration.
But not before Mediaite took screenshots.
On her personal website, Shine (who, like her husband, did not respond to requests for comment) says that she got her start in media by working as a "TV reporter and producer." After giving birth to her first child, that site asserts, she opted to leave the office and become a stay-at-home mom while her husband Bill Shine stayed in the news industry.
She eventually jumped back into media — authoring the book Happy Housewives in 2005 and starting a blog called, "Darla Shine's Happy Housewives Club." On this site, Shine advocated for stay-at-home moms, whom she claims are "the most disrespected" people in America.
"I am proof that housewives don't lose their brain or their dreams after they give birth," Darla Shine wrote on the About page of her blog. "The days of the housewife hag image are over."
Her Twitter account, Facebook page, and podcast all focus on this brand of traditionalist and very public mommy blogging. But she doesn't stay confined to that one topic.
At a glance, Shine's online habits appear to be no different than those of many conservative American baby boomers. She uses her Twitter account to complain about what's on cable news and reality TV, as well as moan about society going downhill because of millennials.
Shine's Twitter habits even mimic the president's at times.
"Wow, Vanity Fair loser @kurteichenwald on #AMJoy just called 'Americans Dumb!' & said Trump/Russia story 'worse than 9/11.' Loser! #MAGA," tweeted Shine in late 2017.
Like President Donald Trump, Shine also regularly attacks CNN in her posts, styling her writing in his recognizable prose.
"What kind of Pimp Producers are at #CNN passing around the same guest #SamNunberg like a drunk whore 5 times #JeffZucker should be fired," she wrote amid Sam Nunberg's infamous cable news meltdown in March.
Her posts on the subject of race, however, divert from garden variety right-wing fare.
————————————
"Black Boys"
"1 out of 10 black boys has autism!" Shine tweeted in February 2016, in a post that managed to combine vaccination conspiracies with race-baiting.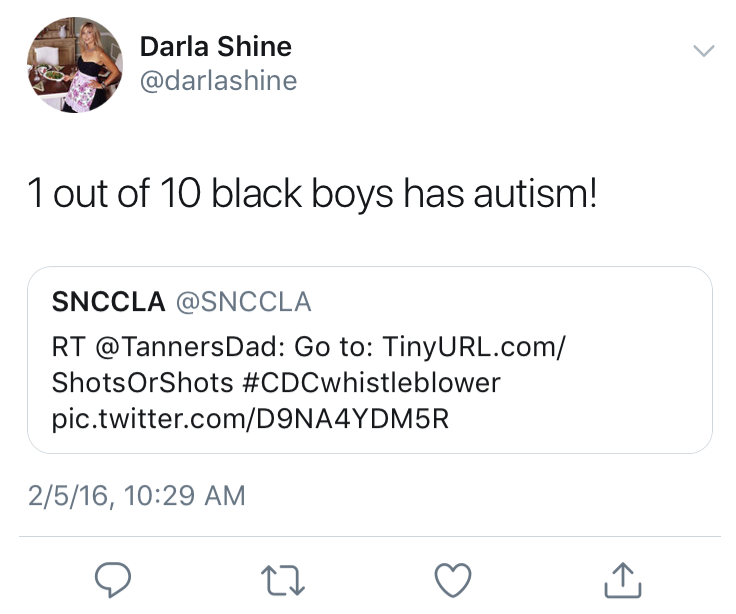 The belief that vaccinations cause autism, despite being thoroughly debunked, featured prominently on Shine's social media accounts.
"The new stand in President at #mizzou is black," she wrote in another tweet from 2015. "Will every white College President have to be replaced?"
A number of her posts focused on holding celebrities of color responsible for crimes committed by black people.
"Where are the black celebrities, sports stars, musicians, why [aren't] they speaking out tonight against blacks targeting & murdering cops?" Shine wrote in one post after the Dallas, TX police shooting in 2016.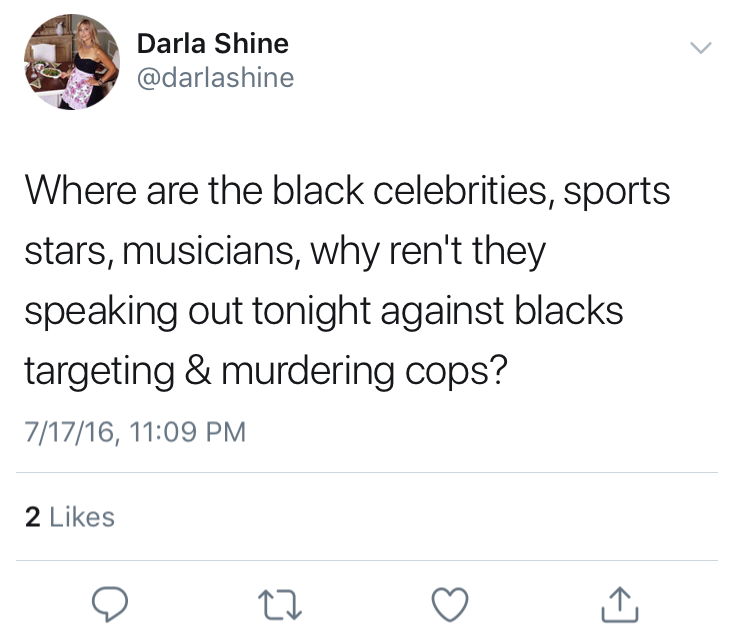 She also blamed the shooting on President Barack Obama: "You really are a terrible President @BarackObama @POTUS allowing our police officers to be gunned down like this."
"When will Al Sharpton demand [that] young black boys do the right thing?" tweeted Shine in response to the Black Lives Matter movement devoted to combating police brutality and racism in the judicial system.
The "happy housewife" also sided with the president in his battle against black professional athletes.
"Comical to see these over paid black sports stars give Black Lives Matter speech at ESPYs," tweeted Shine in 2016.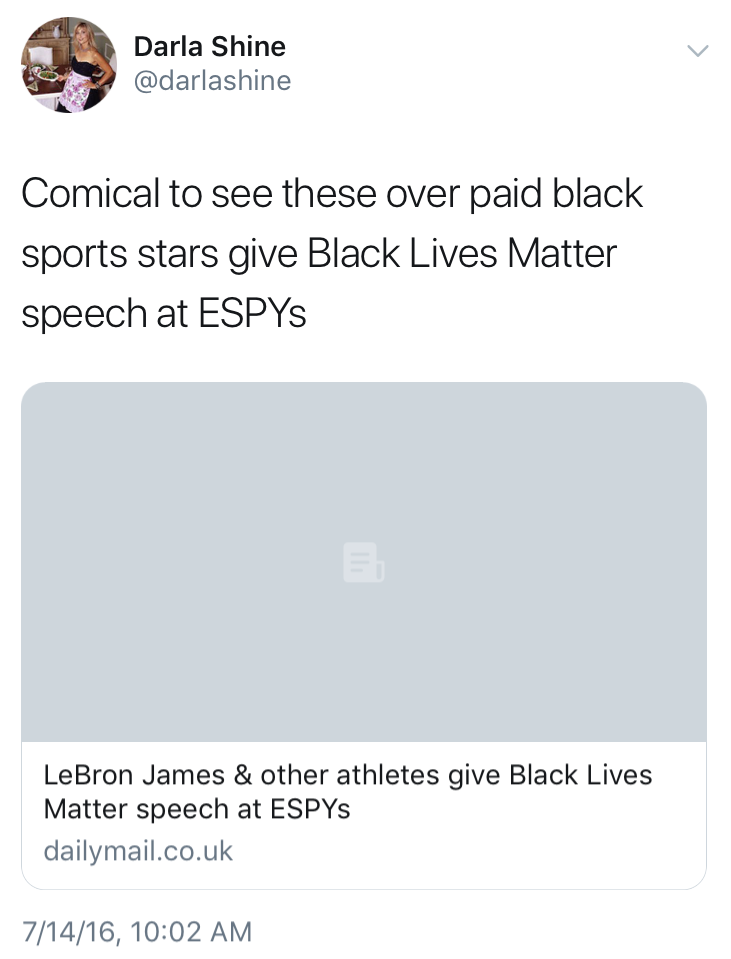 In response to Trump's infamous "shithole country" comment, Shine agreed with the president and even posted a racist meme mocking the progress of African nations when compared to Europe: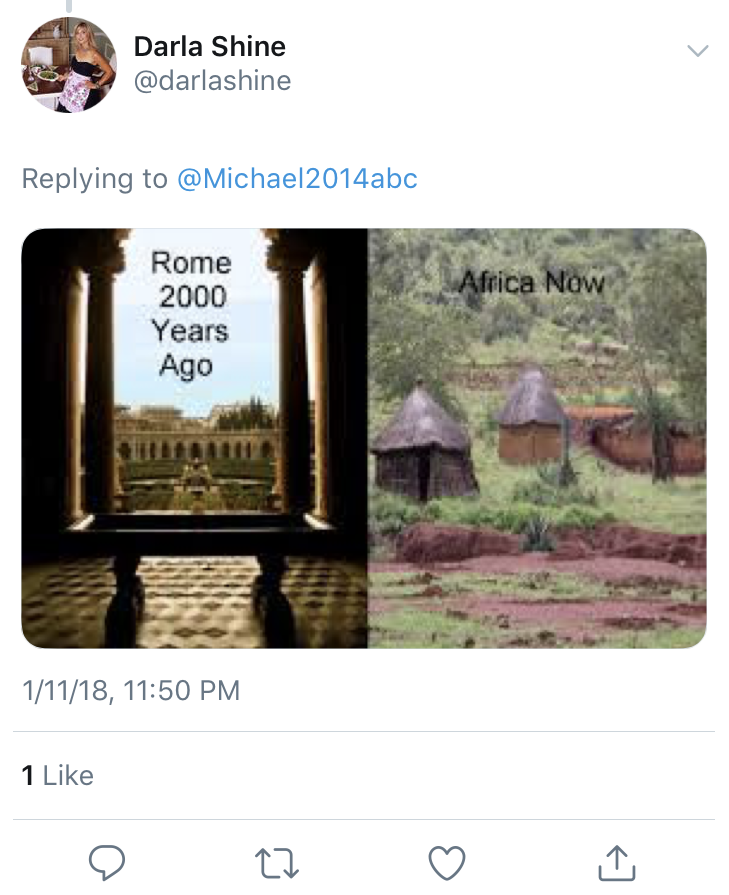 She has also weighed in on the cultural appropriation debate: "If white chicks can't perm their hair – black chicks can't go blonde."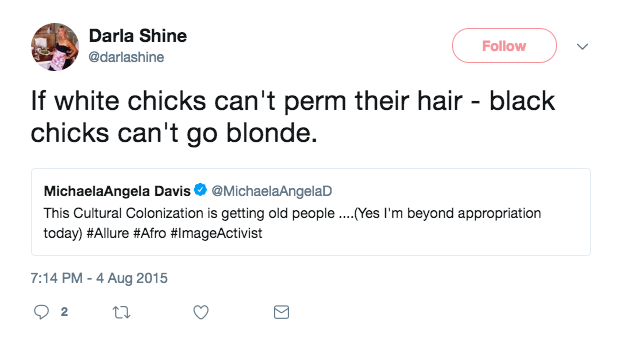 Similar to the white anxiety that defined the "Knockout Game" hysteria, the newest White House official's wife seems to focus on crime stories featuring a black perpetrator and a white victim to suggest that it represents a broader racial trend in the US.
"Imagine the protests if 3 white teens murdered a black woman #AmandaBlackburn Only Black Lives Matter I guess," tweeted Darla Shine regarding the fatal 2015 shooting of Amanda Blackburn in Indianapolis, Indiana.
She repeated similar racially-charged fears in at least four other tweets where she shared stories about "black teens" killing a "white hubby" and a "white woman" getting "beat by a black couple for being in the wrong neighborhood."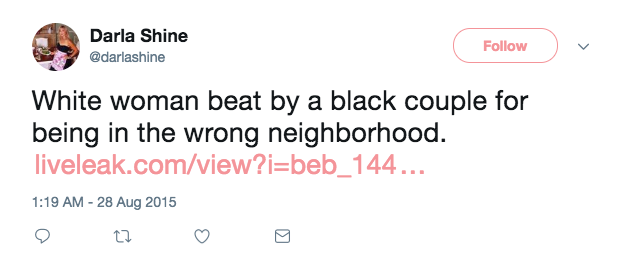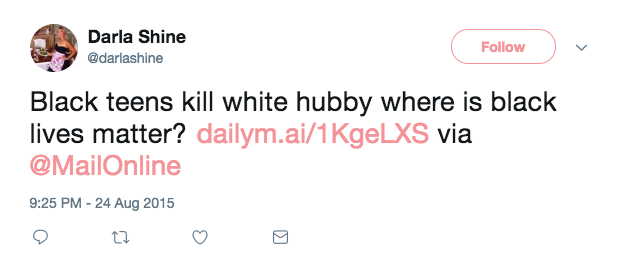 ————————————
"Blacks stop using the N word!"
The most prominent issue Shine had with the black community isn't crime, however. It's that people of color can say the N-word but she can't.
"Just singing to one of my jams 'Golddigger' by Kanye West when I realized If I sing along to the verse 'Broke Nigger' I might be a racist," tweeted Shine in July 2015 (West's song does not include a hard R version of the slur).
That tweet is just one of more than a dozen times Shine demanded "Rappers remove [the] N word from music" — since she, the "happy housewife," is not allowed to say it.
Below is a sampling of her other commentary on the subject, included her repeated demands: "Blacks stop using the N word!"
"Take the N word out of the music – don't want to feel guilty for singing songs with the N word in it."

"Al Sharpton demanding kid Rock denounce Rebel Flag yet Sharpton not demanding Rappers remove N word from music."

"The recurring verse in Trinidad James rap song is the n word over and over. I can buy, but I can't sing out or then I'm am a racist?"

"Take the N word, and the C word, and the B word out of lyrics."

"Don't use the N word in your songs if you don't want your teenage listeners to repeat it out loud. Clean up the music! Set an example."

"@seanhannity @Theblacksphere I never have said the N word out loud and my white children have never either. Blacks stop using the N word!"

"Funny how critics calling to ban Gone With the Wind, Jefferson Memorial, but no talk of banning the N word or Rap songs with N word in it."

"Remove every rap song that has the N word in it. Take them off the air. If we ban Gone with the Wind, racist rap music goes too."

"Will Sharpton threaten rappers to remove N word from their music?"

"Rebel Flag off State Buildings in SC but cop killer rap songs, songs about rape, and songs with N word continue to play on the radio."

"I have never said the N word out loud and my white children have never either. Blacks stop using the N word!"
————————————
Defending racists
Shine has also used her Twitter account to defend racists and white supremacists.
One such example involves the infamous University of Oklahoma fraternity incident, in which racist members of the school's Sigma Alpha Epsilon chapter chanted, "There'll never be a nigger in SAE, there'll never be a nigger in SAE, you can hang 'em from a tree but he'll never sign with me, there'll never be a nigger in SAE"
Shine portrayed the two fraternity members expelled from the University as victims undeserving of such a punishment, particularly compared to the crimes of black college students.
"At FSU u can punch a girl in the face & only get kicked off football team but sing a song with the N word in it & you're expelled at Oklahoma," wrote Shine regarding ex-Florida State quarterback De'Andre Johnson, who is black, and the white students who chanted the N-word and about the lynching of black people.
In a similar vein, Shine also defended white supremacist housewives after the New York Times published an op-ed on "traditional wives" or "tradwives."
The Times piece explains how most women in the white supremacist movement do not have leadership roles or act as household heads, and instead believe that it's a woman's role to stay in the home, let their husbands lead, and not pursue a professional career. Of course, they still hold the same racist views as their male counterparts.
Shine viewed the article as a personal attack against her and she launched a tweetstorm against the author.
"OMG! I am outraged over this article!" Wrote Darla Shine in June 2018. "How dare the @NYTimes #NYTimes publish this. They call #WHITE #Mothers #TRADITIONAL #HOUSEWIVES WHITE SUPREMACIST NAZIS!"
"@anniekelly Anne are you the author behind this article? Do you realize what you wrote? Do you know how wrong how wrong you are? I am a white housewife. How dare you lump all white traditional housewives into the category of Nazi White Supremacist!" she wrote in another post.
Shine then tweeted the story at Fox News host Sean Hannity and former cable news giant Bill O'Reilly, presumably to get the two media men to condemn the piece to their massive audiences.
On the issue of Confederate flags and white supremacist gunman Dylan Roof, Shine suggested the shooting was caused by the drug "Suboxone" — not racism.
"Yes Lets blame the Confederate Flag instead of Big Pharma and the psychiatric violence inducing Suboxone Dylan Roof was taking," she wrote in one 2015 post regarding Roof and his slaughter of nine African-Americans at a Charleston, South Carolina church.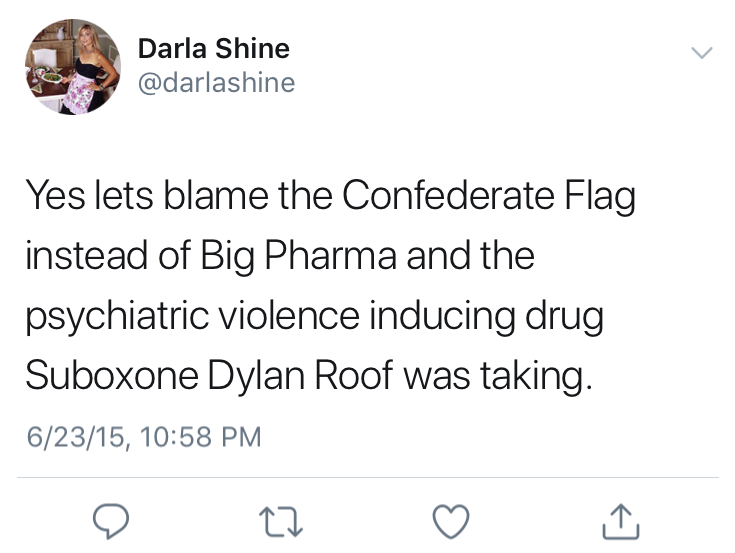 "One psychopath Dylan Roof caused historic Rebel Flag to be removed yet violent inducing psychiatric drug he was taking still on market," the blogger wrote in another post.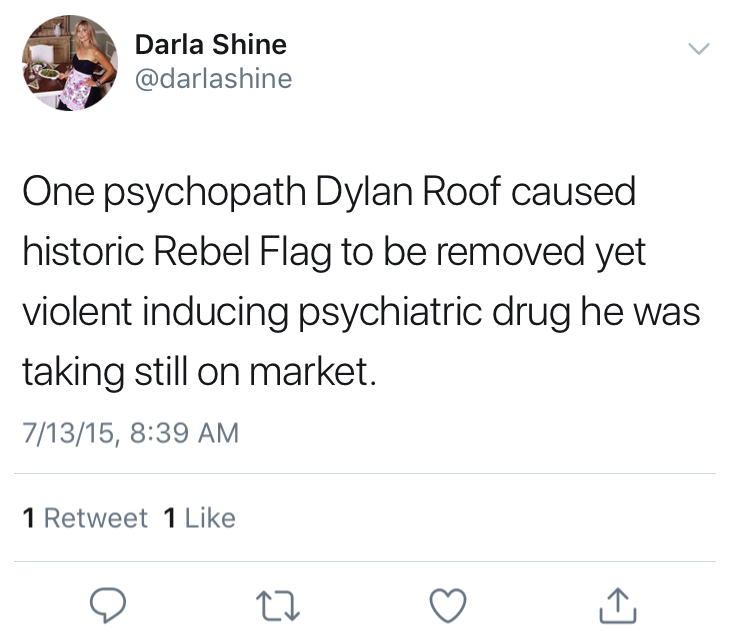 Shine even penned two 2015 tweets defending the Confederate flag after it was taken down from the South Carolina state house:
"OMG Critic calls for 'Gone With The Wind' ban over Confederate flag. What is wrong with everyone? Grow up!"

"@seanhannity If we ban the Confederate Flag lets also ban talking about Slavery also. Let's ban all talk of anything before 1865."
The mommy blogger waded in the recent racial controversy the erupted after conservative comedian Roseanne Barr called former Obama administration official Valerie Jarrett an "ape."
"Wondering what it was that set off the #ABC execs the #Ape comment or really the #MuslimBrotherhood comment?" tweeted Shine in May 2018.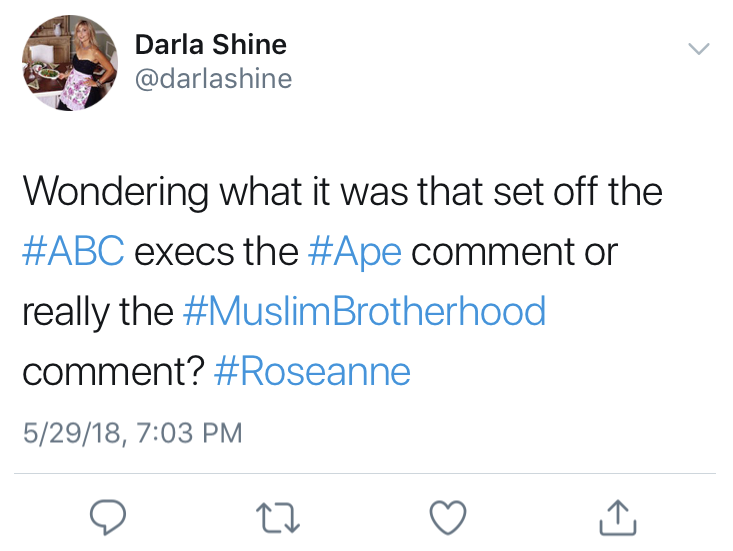 "BTW Valerie Jarret is Iranian not even black," she wrote in a follow-up tweet.
————————————
"Islamic Insanity"
Shine has also posted several anti-Muslim tweets.
"Muslims with bombs but @potus @HillaryClinton @HarryReid trying to blame their Radical TERROR on the @GOP @NRA not Islamic Insanity," tweeted Darla Shine in late 2015.
In another tweet that year, she defended then-candidate Trump's proposed ban on all Muslim entry into the US: "This is NOT SIMILIAR to what FDR did in WW2 @realDonaldTrump is saying we need to halt Muslims from coming in, he isn't rounding any up!"
Darla Shine has also called for the banning of all Hijabs, niqabs, and burkas worn by American Muslim women.
"Bulgaria bans the Muslim face veil so why can't we," she tweeted in 2016.
Of all her controversial opinions, conspiracy theories on vaccinations appears to be what Shine is most passionate about. Mediaite found that she has posted unfounded anti-vaccination theories over two dozen times.
"Our biggest national security threat isn't ISIS it's that 1 out of 2 boys will be autistic by 2050. @JohnKasich @BernieSanders #vaxxed," she tweeted in 2016, which is pretty representative of the rest of her oeuvre.
Shine also frequently writes about vaccinations on her blog and her Facebook page.
————————————
"Stop glorifying whores"
She frequently weighed in on the Clintons, repeatedly calling Monica Lewinsky a "whore" for her affair with former President Bill Clinton.
"[Bill Clinton] didn't rape her, she said it was consensual," Shine said regarding Lewinsky. "They had a fling. She has said interviews that she thought he would leave Hillary for her. So she is another lying opportunist whore."
"OMG #CNN just called #MonicaLewinsky a 'Victim, a Suvivor.' What?" she wrote in another tweet. "Lewinsky went after Clinton. She admitted it. She is a VIXEN not a Victim. Stop glorifying whores who go after rich married men then cry when the men don't want them!"
Additionally, Shine has issued a flurry of insults toward adult film actress and one-time (alleged) Trump mistress Stormy Daniels:
"How is a one night stand between a rich married man and a whore news?"

"I still don't understand what the #StormyDaniels story is? A whore has sex with older rich man and takes money for it. Oldest story in the books."

"The confusion lies in men saying they can grab women by the pussy and the whores like #StormyDaniels who sleep with men to try to get on TV. If you support a woman who will F a married man for a job, how can you be offended by a dirty comment?"
Darla Shine's entire Twitter account was deleted on Thursday, after it was officially announced her husband would be joining the Trump administration as Deputy Chief of Staff for Communications. Mediaite contacted the White House for comment on Darla Shine's posts, but did not immediately receive a statement.
To be clear, these were not the private musings of the wife of a powerful individual. Darla Shine was a public and prolific blogger and social media participant who wanted her views to be seen and heard.
Her husband Bill Shine worked his way up at Fox News from Sean Hannity's producer to serve briefly as co-president of the network after Roger Ailes was ousted from the network amid a wave of sexual misconduct allegations. Shine was never accused of any sexual misconduct but was eventually forced out in May 2017, after facing allegations that he was complicit in covering up certain claims against Ailes during his tenure at Fox News.
[Photo via Dimitrios Kambouris/Getty Images]
Follow the author on Twitter (@calebecarma).
Have a tip we should know? tips@mediaite.com