Blagojevich Speaks!: "I Can't Talk About The Evidence We Have… Which Is Everything"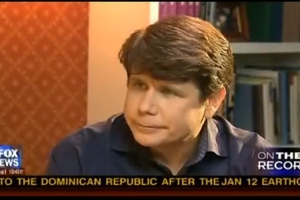 Dubious Illinois personality Rod Blagojevich allowed Fox News' Greta van Susteren into "the sanctity of [his] home" last night to discuss his upcoming trial and his defense's request to subpoena President Barack Obama. After last week's .pdf redaction failure, the media had been hoping Blagojevich would have something new to add, but unfortunately, Blagojevich was so afraid of getting in trouble again that he just rehashed his greatest hits.
"Play all the tapes;" "I was involved no wrongdoing"– unfortunately, van Susteren got little out of the governor that had not been heard before. He does admit that he remembers having conversations with Illinois Senator Dick Durbin in person about the seat that should not appear on wiretaps, and that fundraiser Tony Rezko is involved in the case (though he did not comment on how).
He refused to answer why Obama would be a good witness to the case other than claiming Obama did nothing wrong– as he did. How Obama testifying that Obama did nothing wrong will help Blagojevich is anyone's guess, but judging from some of his previous statements in his book, The Governor, it might have something to do with a potential claim that Blagojevich was framed.
By far the most interesting claim in the redacted portion of the request to subpoena was that a "Supporter of Presidential Candidate Obama is mentioned in a phone call on November 3, 2008, having offered 'fundraising' in exchange for Senate Candidate B for senator." Blagojevich refused to speak to van Susteren about any of the redacted portions of the request his defense filed, other than acknowledging it: "they redacted the substance of those. there was a computer glitch, apparently that made some of this stuff unwittingly public– the media found it." The "supporter" claim, however, is consistent with a claim he made publicly in the past, although without involving President Obama. In The Governor, Blagojevich claimed:
"I never approached anyone who was interested in becoming a United States Senator… the fact remains that people approached us about campaign contributions if I either appointed them or the person they were supporting to the Senate." (pg 181).
Who the "supporter" was– in 2008, voting tallies show Obama had about 66,882,230 of those– is up in the air, but it seems overly cautious of Blagojevich to not discuss a topic he has already touched on in print.
As for the court of public opinion, it seems Blagojevich's PR campaign has been working like a charm. Van Susteren set up a poll at her site asking the public about Blagojevich's image, and 57% of those polled have a "more favorable" view of Blagojevich than they did before the interview.
On the Record has promised to release the full, unedited interview with the former governor, but until then, here is the portion they aired last night:
Have a tip we should know? tips@mediaite.com