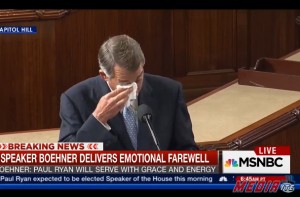 Departing Speaker of of the House, John Boehner gave his farewell address to Congress Thursday morning, capping 25 years of service to the House of Representatives.
Boehner began his brief, sometimes emotional speech by grabbing a box of tissues, as Congress members erupted into laughter and applause. "I leave with no regrets, no burdens," he said. "If anything, I leave the way I started: just a regular guy humbled by the chance to do a big job."
"The people's House is, in my view, the great embodiment of the American Dream," said Boehner, telling his colleagues that for him, "it wasn't so much a calling as it was a mission: a mission to strive for a smaller, less costly and more accountable government here in Washington."
"I'm proud of these things," he continued. "But the mission is not complete, and the truth is it may never be. I want to think I came to realize over the years I've been here that this battle over the size, and scope, and cost of our government has been going on for over 200 years. And the forces of the status quo go through an awful lot to prevent change from happening."
"Real change takes time. Yes freedom makes all things possible, but patience is what makes all thing real. So believe in the small, slow struggle. Believe in this country's ability to meet its challenges and to lead the world. And remember you can't do a big job alone, especially this one."
Despite jabbing at his colleagues, some of whom "could still dress better," Boehner said he was "grateful to the people who work in this institution everyday."
"Never forget, we're the luckiest people on the earth. In America, you can do anything that you're willing to work for, willing to work hard at," he said. "And anything can happen if you're willing to make the necessary sacrifices in life. If you falter — and you will — you can just pick yourself up, dust yourself off and go do it again."
Watch the video above, via MSNBC.
Have a tip we should know? tips@mediaite.com