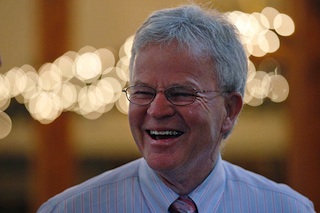 Like every election, the 2012 race has given us a chance to really see who has strength in their convictions. We've discussed the accusations that Mitt Romney completely flipped some of his personal beliefs just to become the GOP candidate and talked about the way Ron Paul has never strayed from his ideals over the years and just how that can both hurt and help him. But Ron Paul's desires to, say, legalize heroin are nothing compared to the way Buddy Roemer has handicapped himself. In a time when you can't make a dent in the campaign without millions upon millions of dollars, Roemer won't accept any donations over $100. Instead, he's asking voters to donate their Tweets.
RELATED: Buddy Roemer Tells Mediaite: DC Is Bought And Sold By Special Interests…Average Citizen Has No Chance
Roemer is a staunch supporter of campaign finance reform, working to end the corrupt dealings with lobbyists and Super PACs that he says have ruined our campaign process. Just today, he went on Morning Joe to blast the other candidates for the "disgraceful" way they lie and claim they have nothing to do with their PACs.
Sounds great, right? Do you want to contribute? Well, then put away your wallet and get out your Twitter account.
A few days ago, Mashable wrote about how Roemer's official web site was designed by a social media firm and how they're using the Internet in a number of innovative ways (They have to. It's not like there are huge mountains of money coming in). Perhaps the most innovative is the request that supporters "Donate Tweets." This means that users get an app on Twitter that automatically retweets one Roemer message a day.
Here's how Roemer's official website explains it:
"What type of tweets will you send?
Nothing controversial, we promise! Tweets will typically include requests for help, such as asking others to follow @BuddyRoemer or volunteer for the campaign. Tweets may also include television appearances or recent articles about Buddy.

How do people know they are from the campaign?
Every Tweet includes a 'via' link, whether you are sending your message from the web, Tweetdeck, Echofon, or other platforms. When the campaign sends a Tweet through your account, it will be clearly marked with "via Donate Tweets to Buddy", which links to this page.

How do I cancel?
Simply revoke this application on Twitter. Under Settings, go to Applications, find "Donate Tweets to Buddy" and click Revoke Access.

Ready to get started?
All you need to do is sign in through Twitter, and we will take care of the rest!"
The man behind it and Roemer's Twitter account, Zach Green, goes into more detail about how the process works and why he thinks the strategy is a sound one in this article.
Like I said at the top, we're in a time where you can't make a dent in the race without a ton of money and, well, so far Roemer has done just that; made no dents. While Green and the rest of Roemer's team can talk up how he is "the most retweeted candidate," the fact remains that he isn't in the debates and really isn't in the conversation.
Still, you have to respect the man for his convictions. As everyone from Roemer to Stephen Colbert (a Roemer fan by the way) has pointed out, we desperately need campaign finance reform to move this country forward. And the tweet donation thing is really innovative.
You have to ask, though, does innovation count if you're mostly silenced and pushed aside? Would it be better for Roemer to play the game so that he can get in the position to change the faulty rules? In many ways, Roemer feels like the Preston Tucker of campaigning. Sure, some of Tucker's advances were eventually accepted by the auto industry, but none of us will ever drive a Tucker Sedan. Hopefully, people start listening to Roemer even if it seems unlikely we'll ever see him in the White House.
Have a tip we should know? tips@mediaite.com