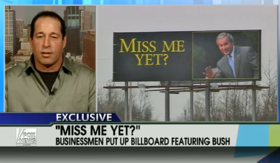 One of the previously anonymous small businessmen who purchased a billboard displaying a goofy-looking George W. Bush asking "Miss Me Yet?" over a Minnesota highway has revealed his identity. And as much as Gretchen Carlson tried to goad some anti-Obama sentiments out of Mike Rivard on Fox and Friends in an exclusive interview this morning, he remained faithful to his ambiguous agenda of pointing out something hilarious and then brushing aside any political repercussions.
When asked why he and his colleagues put the sign up, Rivard gave a worthy albeit apolitical answer: "We were looking to pass on something that we thought was extremely funny, something that came across the Internet."
Yes, the billboard that launched a thousand inquisitive blog posts was only intended to propagate an internet meme (one that some quick research shows was mostly likely born last September on the humor site MotiFake.com). "We thought it would be a good way to share it with the community," Rivard said.
Interestingly, Rivard went out of his way to separate his political beliefs from the fact that he contributed to putting up this poster. Challenging his light-hearted tone, Carlson reminded him that he "[wasn't] laughing recently about being a small business owner," to which he responded:
I don't think it's fair or right that a lot of people wanted to pass on the blame to President Bush, nor is it fair that we need to expect President Obama to have a magic bullet or a solution to this. I think it's going to take time and a lot of hard work and we really need to look to small businesses to try to help us solve these problems.
Having his ambivalence attacked directly by Carlson's assertion that the poster was a "direct shot" at President Obama, he only admitted that "the humor side of it maybe is, but I think there's a lot more to be said there. I think we need to lighten up a bit."
Watch Rivard's interview on Fox and Friends below:


Have a tip we should know? tips@mediaite.com