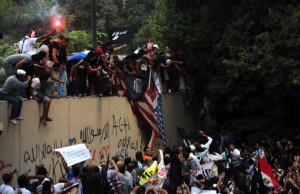 A California man came forward today claiming to have been involved in management of the anti-Islamic video filmed by a man known only as Sam Bacile. Nakoula Basseley Nakoula told the Associated Press that he managed the company that produced Innocence of Muslims and that he was in contact with the filmmaker, who is now in hiding.
RELATED: Actress In Innocence Of Muslims Movie Claims She Was 'Deceived,' Original Script Was Not About Islam
Nakoula gave the AP details about the film and why he was interested in working on such a project.
Nakoula told the AP that he was a Coptic Christian and said the film's director supported the concerns of Christian Copts about their treatment by Muslims.

Nakoula denied he had posed as Bacile. During a conversation outside his home, he offered his driver's license to show his identity but kept his thumb over his middle name, Basseley. Records checks by the AP subsequently found it and other connections to the Bacile persona.

The AP located Bacile after obtaining his cell phone number from Morris Sadek, a conservative Coptic Christian in the U.S. who had promoted the anti-Muslim film in recent days on his website. Egypt's Christian Coptic population has long decried what they describe as a history of discrimination and occasional violence from the country's Arab majority.
The video has been widely linked to the violence that erupted last night in Egypt and Libya. YouTube has already blocked clips of the movie in both countries.
h/t AP
Have a tip we should know? tips@mediaite.com
Josh Feldman - Senior Editor