California's state-based health care exchange, located at CoveredCA.com, has been one of the most successful portals in the Affordable Care Act's system, signing up nearly 80,000 people as of November 19th with 18-34-year-olds making up 23% of that total. But now, a group of Republican Assembly members in that state have launched a campaign to redirect Californians to a different website at CoveringHealthCareCA.com that exclusively promotes right-wing opposition to the law.
Crooks and Liars obtained the mailer that the Assembly members have sent out over the last two weeks directing people to the new website for more information about how to comply with the law.
Once there, users are presented with a website that could easily be mistaken for the official California exchange platform. Only here, there are no easy ways to sign up for insurance.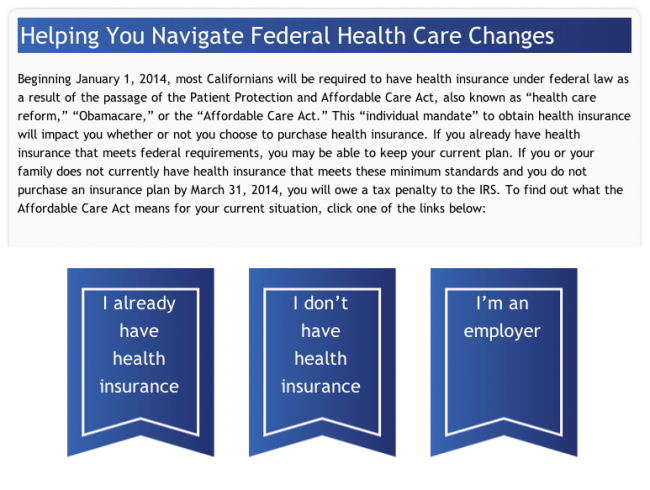 While there is a small link to Covered California on the left menu, if you click the much larger "I don't have health insurance button" on the home page, you are presented with a way to calculate the "IRS Tax Penalty" for not having insurance, but there is no similar way to calculate your monthly premium with subsidies.
More disturbing are the sections of the website for "seniors" and "young adults." In the seniors section, the site warns of rationing, while stopping short of evoking "death panels":
"Medicare providers will see rate cuts nearing $200 billion over the next decade. These cuts could potentially result in the exodus of doctors from the Medicare system and force Medicare recipients to find new providers, possibly facing longer wait times for care as that pool of doctors shrinks."
For young adults, the site informs them that they will be "subsidizing sicker adults" and generally helps promote the dangerous notion that young people are "invincible":
"The Affordable Care Act requires young adults to pay higher premiums for health insurance because the law prohibits insurers from denying coverage to sicker individuals because of pre-existing conditions and limits what they can charge to older or sicker policy holders. This will mean that young adults will pay higher premiums even though they are generally healthier and do not visit the doctor as often."
And the leading FAQ's aren't much better. "Why is the cost of health care rising? Wasn't the Affordable Care Act supposed to reduce the cost of insurance?" one asks. "I've heard that employers aren't hiring full-time employees because of the health care law. Is that true?" asks another.
Overall, the site aims to mislead Californians by posing as a non-partisan, purely informational resource on the changing health care system while hiding its true authors. It's only in the fine print at the very bottom of the site that a link to the Assembly Republican Caucus appears, along with a particularly unnerving disclaimer:
"The California State Assembly does not warrant or make any representations as to the quality, content, accuracy, or completeness of the information, text, graphics, links and other items contained on this server or any other server. Such materials have been compiled from a variety of sources, and are subject to change without notice from the California State Assembly."
[h/t ThinkProgress]
[photo via screengrab]
— —
>> Follow Matt Wilstein (@TheMattWilstein) on Twitter
Have a tip we should know? tips@mediaite.com