Can Hillary Clinton Repeat Her 5-Borough Sweep Here in New York City Today?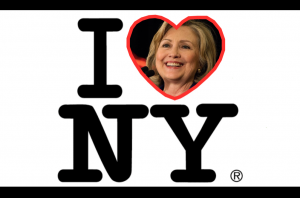 When the Democratic candidates for President arrived at the New York primary in 2008, hardly anyone was even talking about New York. On that day — Tuesday, February 5, 2008, Super Tuesday of that year — the Empire State held its voting convention on the same day as twenty-three other states. Whatever headlines weren't focused on the race between Senators Hillary Clinton of New York and Barack Obama of Illinois were surely covering the freak outbreak of tornadoes that day that claimed the lives of dozens in the south. Any way you slice it, the New York primary in 2008 was relatively forgetful, and only a piece of the larger storyline: Obama had won 13 contests that day compared to 10 for Clinton, and took a lead in the delegate count that night 847-834.
But in the 2016 cycle, New York finds itself in the unique position of being on its own day on the election calendar right where it belongs: in the limelight as the focus of the campaign world, with stakes as high as a Trump luxury tower. Aside from California, New York's primary issues the highest number of state delegates to winning candidates, and the lead-up to today's voting has been the stuff of New York greatness: a Texas blowhard got booed out of the Bronx, a Queens-born bully threatened future riots at his rallies, and an out-of-touch out-of-towner got ridiculed for needing more than one swipe to access the subway. It's been a great few weeks.
Both Hillary Clinton and Bernie Sanders have claimed New York as their own home turf. Clinton, clinging to her Chappaqua connections and Senatorial tenure, taking on Sanders, aka little Bernie from down on Kings Highway. But of the two, it's Clinton who has a proven track record of performing well in the Big Apple. She swept all five boroughs here in 2008, en route to an easy state win that night over Obama in a victory that delivered her all but one county.
Here's how well then-Senator Clinton performed in the five boroughs of New York City on Super Tuesday in 2008:
STATEN ISLAND: 29,243 VOTES
CLINTON – 61%
OBAMA – 36%
EDWARDS – 2%

BROOKLYN: 264,157 VOTES
CLINTON – 50%
OBAMA – 48%
EDWARDS – 1%

QUEENS: 196,840 VOTES
CLINTON – 60%
OBAMA – 38%
EDWARDS – 1%

THE BRONX: 139,640 VOTES
CLINTON – 60%
OBAMA – 38%
EDWARDS – 1%

MANHATTAN – 262,389 VOTES
CLINTON – 54%
OBAMA – 44%
EDWARDS – 1%

*For good measure, Clinton won 62% of the vote in both Nassau and Suffolk Counties in Long Island as well.
Senator Clinton's narrowest margin of victory was in Brooklyn in 2008, and although she established her campaign headquarters there last year, the 28,000 strong in support for Sanders on Sunday in Prospect Park may indicate a steeper fight than once expected. Sanders' grassroots effort and populist message has proven to be a fan-favorite with New Yorkers, and both campaigns are badly looking for wins in a tightening race with key states ahead. Both candidates have canvassed all five boroughs in recent weeks, and while Clinton holds a 12.0 point lead over Sanders in the most recent Real Clear Politics polling, it may be a tall task to expect another five-borough sweep.
As for the other side of the aisle, the fun won't be in watching the sweep across the board that is certainly going to transpire, it's more about seeing just how badly the frontrunner can run up the score on his home turf: values and voters safely intact.
—
J.D. Durkin (@jiveDurkey) is a columnist at Mediaite.
This is an opinion piece. The views expressed in this article are those of just the author.