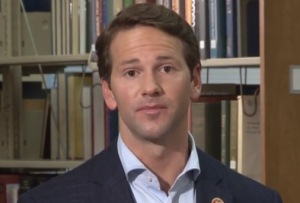 Illinois Republican congressman Aaron Schock has long been the subject of gay rumors, and has categorically shot them down in the past, but they came back in a big way Saturday when journalist Itay Hod posted a lengthy Facebook status that heavily implied that not only is Schock gay, but that he knows people with firsthand knowledge of the congressman's sexuality.
Hod, who is himself openly gay, vented his frustrations on Facebook about why it's considered inappropriate for journalists to out gay politicians, especially if these journalists apparently know for a fact they are gay.
here's a hypothetical: what if you know a certain GOP congressman, let's just say from Illinois, is gay… and you know this because one of your friends, a journalist for a reputable network, told you in no uncertain terms that he caught that GOP congressman and his male roommate in the shower… together. now they could have been good friends just trying to conserve water. but there's more. what if this congressman has also been caught by tmz cameras trolling gay bars. now what if you know that this very same guy, the darling of the gop, has also voted against repeal of don't ask don't tell, opposed the repeal of doma, is against gay marriage; and for the federal marriage amendment, which would add language to the us constitution banning gay marriage and would likely strike down every gay rights law and ordinance in the country?

Are we still not allowed to out him?
The link at the end of the Facebook post is to a slideshow of Schock's "gayest" Instagram posts, basically just coming out and saying that Schock is gay and plenty of people know about it.
Hod argues that journalists shouldn't have to bend over backwards to avoid broaching the issue of someone's sexuality until they publicly comment on it, comparing it to journalists refusing to say a politician has blue eyes until they themselves confirm it.
Hod claims that when Schock spoke to the network his friend works at, he "talked about wanting to find a nice woman to marry… and the network aired it… knowing it was a lie…"
Schock has yet to publicly comment on the post.
Correction: a previous version of this post misidentified Hod as a CBS journalist. Hod is not currently a CBS News employee.
[h/t Raw Story]
Have a tip we should know? tips@mediaite.com
Josh Feldman - Senior Editor