CBS News Fires Back At "Perverse Hobby" Of "Ridiculous" Collapse Predictions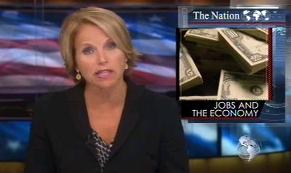 The Daily Beast's Rebecca Dana wrote yesterday about the "implosion" and "collapse" at CBS News, focusing on a variety of issues – from ratings to business cards.
Today, CBS News fires back, responding directly to the "fabrications" in the article and pointing to the "perverse hobby" of Dana and others who predict the fall of the Tiffany Network.
"Predictions of CBS News' collapse is a perverse hobby for some writers and they are tiresome, unoriginal and always wrong," a CBS News spokesperson tells Mediaite. "And in this case even the article's purported evidence of decline is a ridiculous series of outright fabrications and distortions."
One area of evidence in the article relates to business cards. "The person who handled ordering business cards vanished, and staffers haven't been able to get them since," writes Dana.
"The claim that nobody at News has been able to get their business cards because someone was cut is nonsense," says the spokesperson. "I have no idea who she thinks vanished, but I can tell you there's been no interruption in ordering business cards."
Another juicy nugget in Dana's piece related to cell phones, with the surprising revelation "cell phone services are blocked on company-provided BlackBerrys for many producers, who are now encouraged to communicate by text." The CBS News spokesperson disputes this as well.
The suggestion that cell phone service has been cut is even more absurdly inaccurate. All producers are provided with cell phones or allowed to use their own cell phones and invoice the division. In addition to the cell phones CBS News provides, all producers also get BlackBerrys to ensure redundancy. It costs more, but there has never even been consideration of cutting back on any of that.
It's unclear what Dana means by "the communication between CBS brass, including news division president Sean McManus, and their staff has all but vanished," but the implication doesn't add up. McManus sent several emails last month company-wide, and obviously individual emails as well (in addition to leading a daily conference call) – just like any head of a news network would.
One area, however, can't be disputed. Numbers don't lie, and the ratings for the Evening News and The Early Show have been steadily and consistently dismal (with the Evening News tying a low last week). As Dana points out, "It hasn't been pretty anywhere, but it's been particularly rough for CBS." She also reports more cuts are coming in the fall.
Dana has kept a focus on Couric for years, writing of her imminent departure from CBS News back in April 2008. Nearly two and a half years later, this latest network obituary could end up being just as incorrect.
—–
» Follow Steve Krakauer on Twitter
Have a tip we should know? tips@mediaite.com