DNC on Young Guns Ad: 'Like The Movie, Policy Ideas Are Best Left In The '80s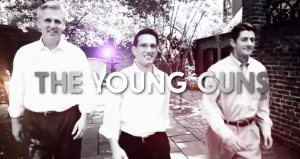 A new ad, promoting a book by GOP Reps Eric Cantor, Paul Ryan and Kevin McCarthy, has been eliciting some interesting reactions from fellow travelers. The spot for Young Guns: A New Generation of Conservative Leaders stars the three congressmen, an overwrought voice-over, and the tiny glowing particles from the film Avatar.
Former GOP Congressman and Morning Joe host Joe Scarborough torched the "Young Guns" on his show, re-dubbing them "The Young Turds," and leading a veritable Friar's roast of the ad by his panel.
We reached out to the Democratic National Committee to see if the Young Guns would fare any better with the opposition. The results might surprise you.
Here's the "Young Guns" ad again, in case you missed it:
While the DNC doesn't seem to be a big fan of the ad, they're still considerably kinder than Scarborough and Co. DNC spokesman Hari Sevugan's response to Mediaite: (via email)
The ideas in the book are anything but new, and have already been rejected. The American people don't want to privatize Social Security or end Medicare as we know it. They don't want more tax breaks for the rich and companies that send jobs overseas, while opposing tax relief for middle class families. We want to move forward. Like the movie, the policy ideas by the 'young guns' are best left behind in the 80s.
Hari's got a point. As re-branding efforts go, Young Guns isn't exactly a cultural high-water mark. Red Dawn has hipper nostalgic cachet, and given the popularity of the Tea Party, The Breakfast Club seems a better match. Given the current opposition party's penchant for saying "no" to everything, though, they might just as well have gone with "The Brat Pack."
Have a tip we should know? tips@mediaite.com