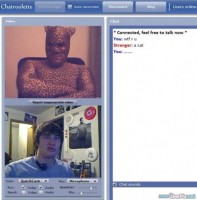 Over at the New York Times online, the Bits blog has scored a statement from this week's biggest internet celeb: the creator of random video chat phenomenon Chatroulette. According to the report, the man behind the magic is Andrey Ternovskiy, a 17-year-old high school student from Moscow.
The bizarre and purposefully invasive service pairs strangers for a two-way chat through web cams, allowing either user to move on to a new partner with the quick click of a button. The result is a lot of sad dorm rooms, shirtless men in bed and the occasional naked exhibitionist. The subject of rabid media attention over the last ten days, Chatroulette has between 10,000 and 50,000 users live at any moment throughout the day and is the momentary hottest in a wave of online social experimentation from Omegle to Google Buzz.
Ternovskiy delivered a lengthy email to the Bits blog, indicating his reservations about outing himself because he's underage and said the project was created "for fun."
Though it's entirely possible that someone is wrongfully claiming ownership of the mysterious service, the earnest response and high level of detail are at least on Ternovskiy's side. Here's a portion of his letter to the Times.
I created this project for fun. Initially, I had no business goals with it. I created this project recently. I was and still am a teenager myself, that is why I had a certain feeling of what other teenagers would want to see on the Internet. I myself enjoyed talking to friends with Skype using a microphone and webcam. But we got tired of talking to each other eventually. So I decided to create a little site for me and my friends where we could connect randomly with other people.

It wasn't so easy to create it for me, but I have been coding since 11 (thanks to my father who introduced me to the Internet early – most of my knowledge comes from it).

I didn't advertise my site or post it anywhere, but somehow, people started to talk to each other about the site. And the word started to spread. That's how the simultaneous user count grew from 10 to 50, then from 50 to 100 and so on. Each time the user count grew, I had to rewrite my code completely, because my software and hardware couldn't handle it all. I never thought that handling the heavy user load would be the most difficult part of my project.

As the user base grew, bandwidth and hosting bills started to show bigger sums. I am glad that my relatives helped me with it by 'investing' some money in my idea.

It wasn't very much money, so I couldn't just buy new servers just like that, I had to optimize my code as much as possible instead. I must say that lots of people have helped and still are helping me when I have questions about coding. I am very thankful to them. I still code everything myself, though. I'd love to share work with someone else, but I am not in the USA, and most of the interested people are located far away from me, because I live in Moscow. So I still have to do all the things myself. But I am not worried.

I enjoy what I do. It is like a game for me. I discover new things and solve interesting problems.

Right now Chatroulette uses seven high-end servers all located in Frankfurt, Germany. Network throughput is 7 gigabits a second. I use various technologies to minimize bandwidth consumption. But a lot of bandwidth is still consumed. Bandwidth bills show sums which shock me as a teenager, but I am not very worried.
The rest can be read here.
Have a tip we should know? tips@mediaite.com