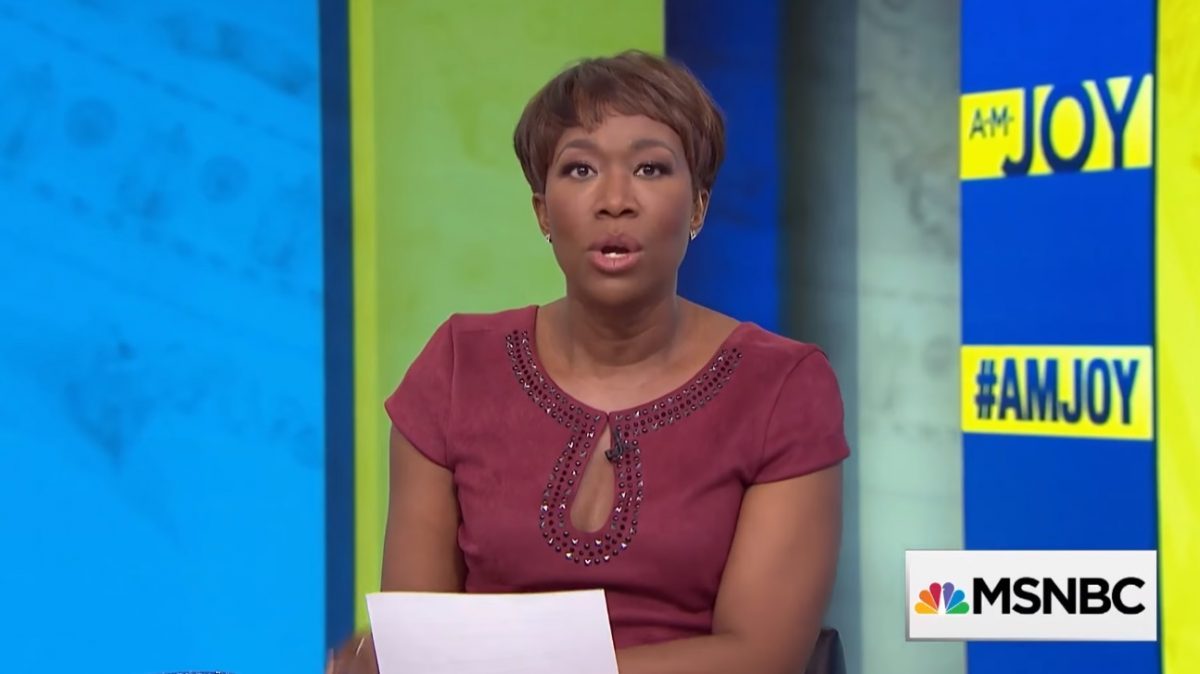 It's been more than three months since Joy Reid responded to anti-gay posts unearthed from her old blog by claiming that she was the victim of a nefarious hacker.
As more embarrassing posts were unearthed — the majority of the offensive content included various anti-gay and anti-Muslim commentary — reporters pressed the liberal MSNBC host, her network, and her alleged cybersecurity expert on the hacking excuse.
Despite the ludicrous explanation — the few concrete instances she provided as evidence of hacking fell apart under scrutiny — Reid stood by her assertions and her lawyer (not NBC's) told reporters the FBI had been tapped to investigate.
Following the near-universal skepticism that met her claims, there was the strange apology episode of AM Joy, where Reid quasi-admitted to screwing up, saying she "truly believed" she had not written the posts, and had a panel of LGBT rights activists take turns forgiving her for the posts she definitely/maybe didn't write a decade ago.
The result was a stalemate between reporters seeking an explanation that made any sense, Reid refusing to admit she had lied, MSNBC referring questions to Reid's lawyer, and Reid's lawyer not responding to emails. Nevertheless, MSNBC kept her on the air while this "investigation" was ongoing.
More posts inevitably trickled out (including a dose of 9/11 trutherism and an image of John McCain's head photoshopped onto the body of the Virginia Tech shooter) and in Reid's last official apology for the blog, she did not mention any hackers.
"While I published my blog, starting in 2005, I wrote thousands of posts in real time on the issues of the day," she said. "There are things I deeply regret and am embarrassed by, things I would have said differently and issues where my position has changed. Today I'm sincerely apologizing again."
Meanwhile, Reid's weekend show on MSNBC quietly chugged along like the whole thing hadn't happened, its host calling out President Donald Trump's administration for its lies and coverups.
Now, her ratings did suffer in the process. An analysis conducted by Contemptor in July found Reid had lost more than 20% of her viewership since Mediaite initially reported on her posts.
But with no further updates to cover, the story of Reid's blog died.
There is a plot line in this ordeal, however, that's still ongoing: the FBI investigation! Surely by now, with the full force of one of America's top law enforcement agencies on the case, Reid's hacker would have been caught and brought to justice? If there ever was an FBI investigation, it has yet to conclude. The FBI doesn't comment on ongoing investigations, and Reid's lawyer, as is his wont, still refuses to reply to emails.
Ah, but how can we forget the NBC investigation!? The network's internal probe into whether one of its star anchors lied about homophobic posts being inserted onto her old blog to save herself from the embarrassment of having to admit that she wrote them?
Well, as it turns out, it doesn't look like NBC ever conducted an internal investigation. Why wouldn't NBC seek to find out whether Reid actually was the victim of a highly sophisticated, bizarrely detail-oriented hacker as she claimed? Given that every media reporter with a Twitter account suspects the MSNBC anchor lied, one would think, particularly in an environment where distrust of the media is rampant, NBC would question whether she told them, possibly the FBI and certainly its viewers, a whopping lie.
A spokesperson from the network declined to comment. Perhaps it's because NBC knows that an investigation would find that, like Brian Williams before her, Reid lied. At least in his case there were repercussions.
So I'm sad to report that there are no updates in NBC's probe, because apparently the probe does not exist.
This is an opinion piece. The views expressed in this article are those of just the author.
Aidan McLaughlin - Editor in Chief