Cheese With That Whine? Mitt Romney Asks Where Was Obama 'Hue And Cry' For McCain Tax Returns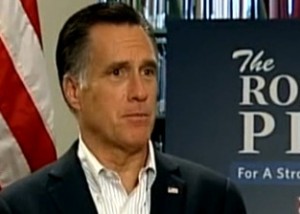 While the Republican "legitimate rape" panic attack continues to blot out the sun, presidential candidate Mitt Romney and President Obama continue to duel over Romney's refusal to meet the standard set by his own father, and release more than one full year of tax returns. On Monday, President Obama set Romney up as a whiner, telling reporters, "I don't think I'm being mean," and Romney promptly fulfilled his end of the bargain, responding by asking an interviewer why there was no "hue and cry" from the Obama campaign for 2008 Republican nominee Sen. John McCain to release more than 2 years of tax returns.
During a surprise visit to the White House briefing room yesterday, President Obama adopted an amused stance toward the notion that there was something sinister about his campaign's demands for Romney to release more tax returns, drawing laughs from reporters and telling them, "I don't think we're being mean by asking him to do what every other presidential candidate has done — right? It's what the American people expect."
He later pointed out that "when it comes to releasing taxes, that's a precedent that was set decades ago, including by Governor Romney's father."
The message was clear and effective: stop whining and do what's expected of you.
In an interview with New Hampshire's WMUR on Monday, Romney responded to President Obama by calling the issue a "distraction," and pointing out that "John McCain ran four years ago. He released the same information that I'm releasing. There was not a big hue and cry that came from the Obama campaign at that point. Why is it different now?"
Romney offered his own view, that the demand for tax returns is an attempt to distract from the current economy, but his assertions, aside from coming off as whiny just when President Obama is painting him as whiny, are factually incorrect. First of all, John McCain didn't release "the same information" as Romney, he released two full years of tax returns, while Romney has released one full year, and an estimate for 2011. McCain also released a full year of wife Cindy McCain's tax returns.
That brings us to the second falsehood in Romney's statement, that there was "no hue and cry" from the Obama campaign about McCain's tax returns. In fact, they even went after McCain's wife:
"Senator [Hillary] Clinton can't claim to be vetted until she allows the public the opportunity to see her finances — particularly with respect to any investment in tax shelters," Obama spokesperson Robert Gibbs said in a statement at the time.

Republican candidate John McCain released two years of tax returns for the years of 2006 and 2007 in April 2008, less than a month after Mr. Obama. The Obama campaign was not satisfied because the candidate, who is one of the wealthiest members of Congress due to his wife's income, did not release his wife's tax returns.

In 2008, Democratic National Committee spokesman Damien LaVera criticized McCain saying, "Unless John McCain's idea of being a different kind of Republican means disrespecting the voters by denying them the right to examine the links between his political career and the McCains' business ventures, he should immediately release Cindy McCain's tax returns."
The big difference this time is that the mainstream political press and other Republicans have joined the hue and cry, because what Romney has released contains questionable items like Swiss bank accounts and hundred-million-dollar IRAs.
In fairness to Romney, of course, both things can be true: the public can have a legitimate interest in seeing his tax returns while the Obama campaign would rather talk about tax returns than defend an economic record that doesn't fit on a bumper sticker. However, pointing at the other guy and saying "Why is he picking on me?" is a weak move.
Unfortunately, Romney closed himself off to the best course of action on his tax returns when he decided to say that he didn't want to give his opponents fodder for attack. He would have been much better off choosing a principle, no mater how thin, and sticking to it, as he did in 2002 when he cited privacy as the reason for not releasing tax returns. He would still be getting clobbered for it, but at least he could be wrong and look strong, rather than being wrong, and looking scared and weak.
Here's the clip, from WMUR:
(h/t TR Scoop)
Have a tip we should know? tips@mediaite.com